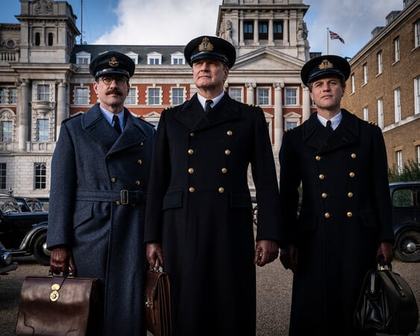 Dir: John Madden 2021 | 128 mins
It's 1943. The Allies are determined to break Hitler's grip on occupied Europe, and plan to launch an all-out assault on Sicily. But they face an impossible challenge - how to protect the invasion force from potential annihilation.
It falls to two remarkable intelligence officers, Ewen Montagu (Colin Firth) and Charles Cholmondeley (Matthew Macfadyen) to dream the most inspired and improbable disinformation strategy of the war - centred on the most unlikely of secret agents: a dead man.
Operation Mincemeat is the extraordinary and true story of an idea that hoped to turn the tide for the Allies - taking impossibly high risks, defying logic, and testing the nerves of its creators to breaking point.
'A pacey war thriller' ★★★★ The Times
'Seriously classy' ★★★★ The Daily Mail
Courtyard Theatre
£10.50 | £9.50 conc
Three Films Ticket Offer
£9 / £8 conc tickets when you book for three films at the same time. Offer excludes event cinema screenings. Offer applied in basket.
Talking Tables
The screening on Tues 31 May 8pm is a Talking Tables screening. These events aim to bring people together in a relaxed environment to discuss films, share ideas and most importantly - to meet new people! It is particularly aimed at people coming to Norden Farm on their own, but all are welcome. To take part, simply book in to see the screening, then join the group in the foyer before and after the film.
Socially Distanced Screening
The screening on Sat 28 May 2pm is socially distanced with a reduced capacity. Face coverings must be worn in the auditorium for this screening. No food and drink can be taken into the theatre at this screening.
Please prepare for your visit by reading our latest Visitor Information here.