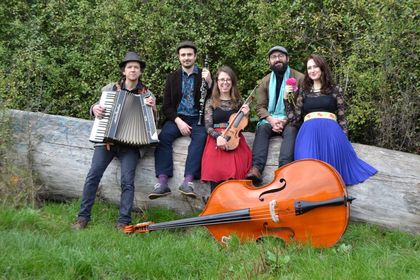 With 'compelling depth and authenticity' (DJ Ritu, Resonance FM) award winning group Oysland re-imagine music from times past, exploring the connections between Klezmer and other folk traditions in Eastern Europe and beyond.
Drawing on the Polish and Slovakian roots of its band members they delve into century-old lullabies, exuberant wedding dances and peculiar hay-making stories.
As equally adept at sharing soulful and intimate songs with an audience as they are at providing the music for a lively dance party, Oysland never fail to take audiences on a journey. 'Fabulous. Such a dynamic live band' (DJ Garth Cartwright, Of Princes amongst Men).
Oysland are winners of the World Music Network Battle of the Bands Winner 2017.
A firm feature on the London world music scene, they have played at venues including the South Bank Centre, JW3, and The Green Note and received airplay on radio stations including BBC Radio 3.
Studio
£15