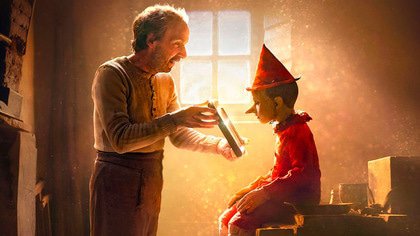 Dir: Matteo Garrone 2019 | 124 mins
(Italian with English subtitles)
Geppetto is an old woodcarver who creates a puppet. But something magical happens – the cheeky puppet begins to talk and can walk, run and eat like any young boy. Geppetto calls him Pinocchio, and brings him up as his son.
But Pinocchio finds it hard to be good. Easily led astray, he tumbles from one misadventure to another. His loyal friend, the Fairy with the Turquoise Hair, tries to make him see that his dream - to become a real boy - can never come true until Pinocchio finally changes his ways.
A new imagining of the iconic classic beloved across the world. Shot in stunning Italian locations, Garrone creates a rich fantasy world of mystery and wonder.
WHY? 'With beautiful creature creations and eccentric humour' ★★★★ Empire
£10.50 (£9.50 conc)
Special Ticket Offer
£9 (£8 conc) tickets when you book for three films at the same time. Offer excludes event cinema screenings. Offer applied in basket.

In line with current government guidelines, this event has a reduced capacity with socially distanced seating. This is subject to change as we monitor government advice. Seat numbers are also subject to change.

Please prepare for your visit by reading our latest Visitor Information here. This includes important information about face coverings, social distancing and measures we have implemented to keep everyone safe when visiting Norden Farm.