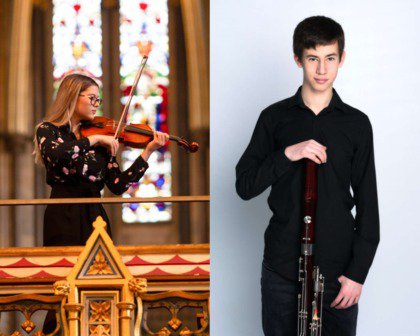 Maidenhead Music Society is delighted to offer a concert given by superb local young musicians - 'Rising Stars'
Maya Fear – Violin
Anita D'Attellis – Piano
Bach – Violin Partita no 2 in D minor – Sarabande
Elgar – Violin Sonata
Kreisler – Preludium and Allegro in the style of Pugnani

Conrad Spencer – Bassoon
Anita D'Attellis – Piano
Vivaldi – Bassoon concerto in A minor RV 497
Willson Osborne – Rhapsody
Tansman – Suite
Gershwin – Summertime

More information can be found on the Maidenhead Music Society website here.
Courtyard Theatre
£10 (under 18s £5, or free with an adult - please contact the Box Office on 01628 788997 to book free under 18s tickets)
Booking cut off time: 30 mins before the event begins

In line with current government guidelines, this event has a reduced capacity with socially distanced seating. Seat numbers are also subject to change.

Please prepare for your visit by reading our latest Visitor Information here. This includes important information about face coverings, social distancing and measures we have implemented to keep everyone safe when visiting Norden Farm.