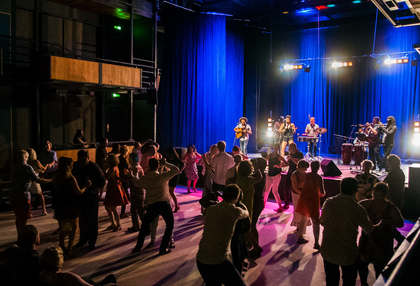 Led by KK from Salsa Autentica.
A free dance workshop, available to customers attending Salsa at the Farm with Son Yambu.
Son Yambu play Cuban son – the intoxicating fusion of Spanish and African rhythms that gave rise to salsa. They give this irresistible music a contemporary edge, bringing their audiences a truly, sensational, authentic Latin music experience.
This introduction to Salsa / Cuban dancing is led by KK from Salsa Autentica .
Don't worry if you have never danced before, the relaxed and fun atmosphere will be the perfect environment to try something new!
Please note this workshop is only available to customers who have booked for the Son Yambu concert at 7.30pm. Please call the Box Office on 01628 788997 to book your place.