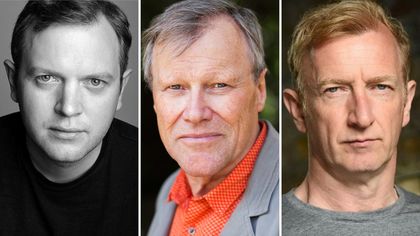 A group of actors come together to recite Shakespeare in a completely unique performance, all in the aid of charity.
In March 2020 theatres and film sets closed in the UK and around the world.
How did some actors, directors and academics pass the time? They met by Zoom every week for six months and threw themselves in to Shakespeare's sonnets.
The acting company includes Steffan Rhodri (Gavin and Stacey, Harry Potter), David Neilson (Roy Cropper from Coronation Street), Miles Jupp (The Thick Of It, Rev, Greed). Other actors have played at National Theatres from Ammanford to Tokyo, the Royal Shakespeare Company, the West End and Broadway.
This show is part master class, part rehearsal, part sharing, part spoken word gig, part group therapy, and all audience participation. The actors share what they have learned about the sonnets during lockdown.
The only script is the sonnets and anything could happen. Professor Carol Chillington Rutter (Professor of Shakespeare and Performance Studies, University of Warwick) will be on hand with a complete works, a microphone and a bell, if things start getting out of hand.
Expect a fun, unpretentious, accessible, cliche-busting, myth torpedoing introduction to playing Shakespeare. Come, listen, participate, heckle and leave everything you've learned about Shakespeare at the door.
Online streaming tickets are also available for this event – so you can enjoy the show live from the comfort of your home.
WHY? An event in aid of Norden's Ark Appeal and Harry's Fund.
Courtyard Theatre and Livestream
£20
Booking cut off time: 30 minutes before each performance
---
Here are some familiar faces to let you know why you should join them...
---
Visitor Information
In line with current government guidelines, this event has a reduced capacity with socially distanced seating. This is subject to change as we monitor government advice. Seat numbers are also subject to change.
Please prepare for your visit by reading our latest Visitor Information here. This includes important information about face coverings, social distancing and measures we have implemented to keep everyone safe when visiting Norden Farm.
---
Livestream Tickets
If you have booked a ticket to watch from home via our website, you can access the live stream on the night of the event by clicking here and logging in to your Norden Farm account.
Click here for a guide to accessing live streamed events and for information on allocating tickets purchased for other households.
---