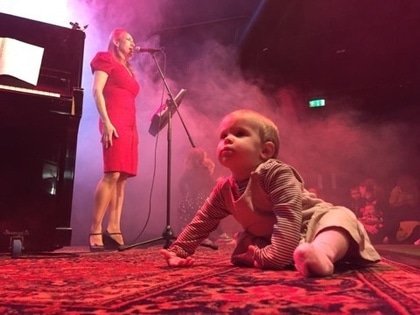 Dig out your scariest outfits and join us for a spooky 45 minutes of music from stage and screen.
Featuring songs from The Rocky Horror Picture Show and The Little Shop of Horrors all performed by West End singer Mairi Cowieson and CBBC singer songwriter Rob Castell.
Online streaming tickets are also available for this event – so you can enjoy the show live from the comfort of your home.
Age guidance: 0 - 8 years
WHY? 'I genuinely think the parents may have had more fun than the kids' Michelle Cairncross, Little Ankle Biters Berks
'Our family love Concertini, we go there to enjoy the music and dance together as a family. Ingela, Concertini audience member
'Fabulous music for adults that you can bring your little monsters along to without fear of being thrown out' Audience member, Rock N Roll Concertini
Courtyard Theatre and Livestream
£11, £9 under 16s
Family & Friends (4 people) £36
Booking cut off time: 3.30pm Saturday 31 October
In line with current government guidelines, this event has a reduced capacity with socially distanced seating. This is subject to change as we monitor government advice. Seat numbers are also subject to change.
Please prepare for your visit by reading our latest Visitor Information here. This includes important information about face coverings, social distancing and measures we have implemented to keep everyone safe when visiting Norden Farm.
---
If you have booked a ticket to watch from home via our website, you can access the live stream on the day of the event by clicking here and logging in to your Norden Farm account.
Click here for a guide to accessing live streamed events and for information on allocating tickets purchased for other households.
Recording of the show is strictly prohibited.