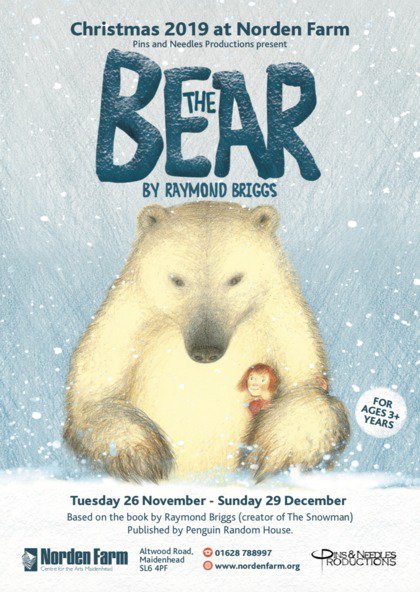 From the book by Raymond Briggs
Adapted by Pins and Needles Productions.
Ever wondered what it would be like to sit on a polar bear's lap? Or ride on its back? Have you ever tried to give a polar bear a bath, or clear up its poo?
One night when she's fast asleep, Tilly is visited by an enormous bear. It has a big black tongue and a yawn as big as your head. But Tilly's not scared.
The story of a little girl who befriends a mischievous polar bear, this playful, funny and heart-warming tale is one of imagination and growing up.
Featuring inventive design, original music, and magical puppetry.
'Move over War Horse, this polar puppet is magic' The Guardian
Age guidance 3+ years.
Click here to read the full review.
---
Tuesday 26 November – Sunday 29 December Performances twice daily | Run time 55 mins
£13.50 (£11.50 under 16s) Family and Friends Ticket (4 people) £46. Offer applied in basket.
---
Relaxed Performances
Performances on Sat 30 Nov at 11am and Sat 28 Dec at 11am are Relaxed - ideal for children with SEND. Everyone is welcome to join us for this friendly format. The house lights are kept on and audience members can come and go as they please.
Download a visual story of your visit to The Bear here. Or download a visual story of you visit to a Relaxed performance of The Bear here.
Pre-show Touch Tours
For children with SEND and sensory impairments. Contact the Box Office on 01628 788997 for more details.
---
Reviews
'This production is an absolute joy!' Maidenhead Advertiser
'With bubbles, glitter, light and sparkle, everything about this production was charming. My two boys were rapt' Henley Standard
'The Bear is magical, wonderful and fabulously heart warming' Laura's Lovely Blog
'An hour of perfection for young families that will win you some serious brownie points with the kiddies' Little Ankle Biters
'The story is all things you want from a children's Christmas production – funny, silly, relatable, and emotive' The Wokingham Paper
'The polar bear is played as a puppet who you just fall in love with... the whole audience of school kids and my son were transfixed' Red Kite Days
'The puppetry work is ever so impressive. You really do believe the Polar Bear is real' Mummy & the Ruggies
'One of my favourite places to visit with the children, especially for a Christmas treat!' Families Magazine
'The cast bring oodles of energy and charm to this show, but it is the polar bear who is the star' Muddy Stilettos
'If you are in any doubt to book, I'd say do it. The nursery and school age children who shared the auditorium with us today were as equally enthralled' Mums about Cookham
---