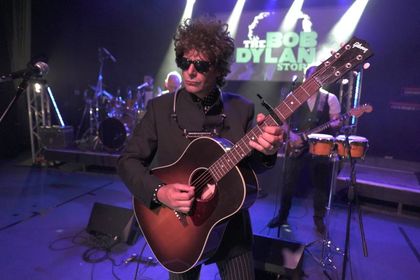 Don't Think Twice, head down Highway 61 past Maggie's Farm and across Positively 4th Street. Destination, the 1960s of course, where "Bob" and "The Band" await with their thrillingly authentic celebration of the music of Mr Bob Dylan.
Feast on an array of tasty aural delights including Like A Rolling Stone, Subterranean Homesick Blues, Blowin' In The Wind, All Along The Watchtower, Mr Tambourine Man, Knocking On Heaven's Door and so many more.
Enjoy fascinating stories behind the hits and let the evocative visuals transport you to a time when popular music's greatest icon reigned supreme.

Described by audiences as "inspiring and moving", "heartbreakingly fabulous" and "the best tribute show I've ever seen"
A brilliant performance Southend Theatre Scene
As close to the man as it's possible to get The Scarborough Review
Superb … Does real justice to the great man Weekend Notes
Courtyard Theatre
£20
Please prepare for your visit by reading our latest Visitor Information here. This includes important information about face coverings and measures we have implemented to keep everyone safe when visiting Norden Farm.