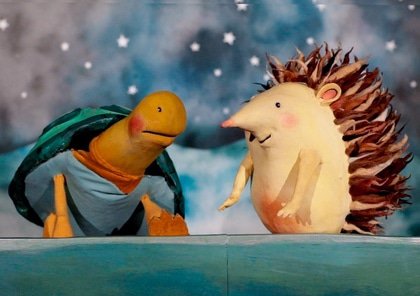 A tale of hope, empathy and acceptance.
Based on the heart-warming and funny book The Hug by Eoin McLaughlin and Polly Dunbar. Starring a Hedgehog and a Tortoise both in search of a restorative hug.
They face many rejections along the way from a rather scary badger, a squirrel (who knows A LOT about nuts), a shy frog, a fabulous fox and an owl who really wants to be wise.
Set to Tom Gray's beautiful and witty music, the audience are invited on a journey full of fun, laughter and love... and at the end, a very special hug from our puppets. 
Age guidance 2 - 8 years.
Presented by Long Nose Puppets
Studio
45 minutes plus 'Hug the Puppets' after the show
£12 | £10 under 16s
Family and Friends (4 people) £40
Please prepare for your visit by reading our latest Visitor Information here. This includes important information about face coverings and measures we have implemented to keep everyone safe when visiting Norden Farm.