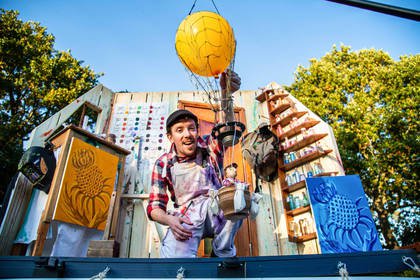 Taking place under cover outdoors in our Linhay barns.
Join Malcolm Brushell, professional painter and amateur alchemist, on his quest to find the pinky-est pink paint on the planet!
Through cracking rocks, mashing every conceivable vegetable, and even bottling and fermenting his own cow's wee, he has created every colour imaginable...except for that rascally elusive pink, but he won't give up! A colourful explosion of puppetry, music and comedy, join the race to create the most pigmented pink paint ever patented!
The Lost Colour is the first show designed for The Puppet Van by award winning Half a String. This vibrant joyful explosion of colour is a whirlwind of clowning, puppets, and paint all 2m in the air! The show follows an underdog pigment maker as he battles against the giant corporations of the paint world!
This show is perfect for families with children aged 5+ years.
Outdoors at Norden Farm
Fri 4 Jun 11.30am and 2pm (45 mins)
£12 | £10 Under 16s | Family & Friends (4 people) £40
Booking cut off time: 30 minutes before the event
Please prepare for your visit by reading our latest Visitor Information here. This includes important information about face coverings, social distancing and measures we have implemented to keep everyone safe when visiting Norden Farm.