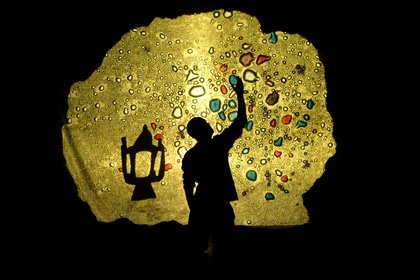 The story of a blessed and beautiful boy who, through serendipity alone, ends up with a lamp-dwelling genie at his disposal.
Played out in a Bedouin tent with a set filled with billowing silken drapes, this bewitching shadow play is told using light, paper and oil.
From these simplest of ingredients, theatre company indefinitearticles conjures up fantastical characters, shimmering transformations - souks, caves, palaces and deserts choreographed to original music.
Age guidance 4+ years.
WHY? 'Soothingly compelling - a harmonious shadow play of magic and myth' Time Out
Courtyard Theatre
£11, £9 under 16s
Family & Friend (4 people): £36
Booking cut off time: 30 minutes before each show
Running time 45 minutes
In line with current government guidelines, this event has a reduced capacity with socially distanced seating. This is subject to change as we monitor government advice. Tickets can be purchased as unallocated and seats will be assigned before the event.
Please prepare for your visit by reading our latest Visitor Information here. This includes important information about face coverings, social distancing and measures we have implemented to keep everyone safe when visiting Norden Farm.
---
Photography credit: Pete Jones