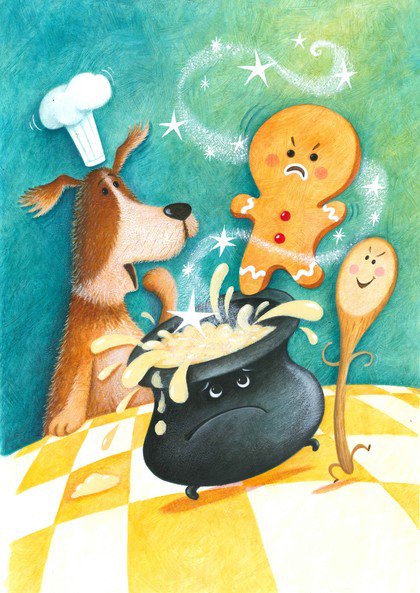 The second of three shows coming to the Norden Farm stage for Christmas 2020.
"You can't catch me, You're much too slow!
I like to run wherever I go"
Can YOU catch that slippery little biscuit, the Gingerbread Man? You'll need a big bowl of porridge first to keep your energy up. Don't worry if you haven't had yours this morning, Granny Grinpickle's Magic Porridge Pot has made enough for everyone!
These two tasty tales which you know so well are served with unexpected spices and quirky flavours, along with Widdershins' trademark ingredients of puppets, pop-up sets and original music. Perfect fare for fussy foodies and discerning diners. Bon Appetit!
From Theatre of Widdershins, the company who have previously brought Rumpelstiltskin & The Snail of Destiny, Rapunzel & the Tower of Doom and The Elves & The Shoemaker to Norden Farm.
Age guidance 3+ years
Courtyard Theatre and Live Stream
Running time 50 mins.
£13.50 | £11.50 under 16s
Family & Friends Ticket (4 people) £46
Livestream Ticket £15 per household

In line with current government guidelines, this event has a reduced capacity with socially distanced seating. This is subject to change as we monitor government advice. Tickets can be purchased as unallocated and seats will be assigned before the event.
Online streaming tickets are also available for this event – so you can enjoy the show live from the comfort of your home.
Please prepare for your visit by reading our latest Visitor Information here. This includes important information about face coverings, social distancing and measures we have implemented to keep everyone safe when visiting Norden Farm.
---
Below you can find a video featuring Andy from Theatre of Widdershins teaching you how to make your very own Gingerbread Man puppet! Why not bring it along when you come to see the show or watch along at home?