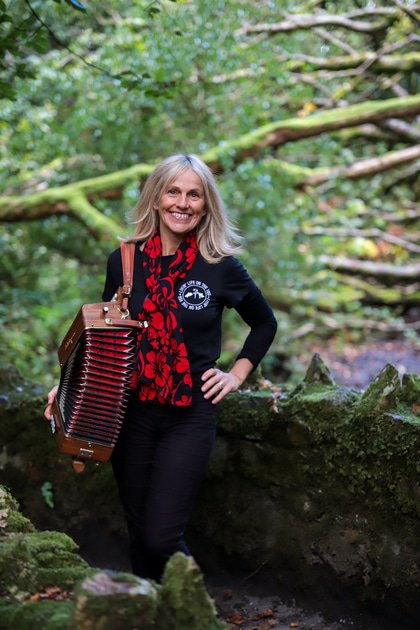 Sharon Shannon is a musician who likes to surprise. While she is known for her arrangements of traditional Irish tunes and Irish-influenced compositions, she has always been eager to explore new styles, and to meet and work with other musicians.
The accordionist from Ireland has achieved legendary status throughout the world and has made the much-maligned accordion 'cool' in her home country. Renowned for her collaborations, not just in Irish traditional music, but through all musical genres, Hip-Hop, Cajun, Country, Reggae, Classical and Rap.
The genre-defying star has achieved multi-platinum album sales and has had several number chart topping albums, singles and DVDs in her home country. In 2015, she received an IBAM Award in Chicago for her 'unique contribution to Irish Music' Other recipients were Darina Allen and actor Liam Neeson.
Sharon's latest studio album, The Reckoning, will be released on 27 November this year. This album was composed, written and recorded in its entirety during lockdown, featuring over a dozen remote collaborations from locations across the globe. All the tracks on the album are newly composed original tunes and songs which are co-written by Sharon and band members and various guest collaborators.
Sharon will be supported on the night by Aoife Scott. Aoife is an award winning folk singer and songwriter based in Dublin, Ireland. Her music has a broad creative scope but is largely influenced by her own roots in folk and traditional Irish music. You can read more about Aoife here.
Courtyard Theatre
£20
Please prepare for your visit by reading our latest Visitor Information here. This includes important information about face coverings and measures we have implemented to keep everyone safe when visiting Norden Farm.