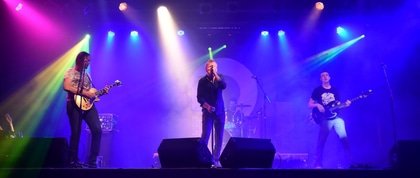 Experience the two greatest decades in rock.
Take yourself back to an era of big riffs, timeless tracks and unforgettable anthems by artists including T Rex, David Bowie, Led Zeppelin, Cream, Jeff Beck, The Kinks, Cream, Jimi Hendrix and more. Get down to the true spirit of the 60s and 70s, when the world was changing and so were we!
The band features top musicians who have worked with members of The Who, David Bowie, Bruce Springsteen, Foo Fighters and The Small Faces:
Johnny Warman (vocals)
Marcus Flynn (guitar - from The Guitar Legends)
Steve Tilling (bass and vocals)
Richard Willoughby (drums)

WHY? 'Well worth checking these guys out. Not to be missed' The Who
'The greatest sixties band on the planet' Time Out
'Songs to delight the diehard fans and casual observers… played stunningly' The Herald
'If you want to see an electric performance by a band that loves music and loves what they do, go and see the Johnny Warman's Magic Bus' Ridge Radio
Courtyard Theatre and Livestream
£17
Booking cut off time: 7.30pm on the day of the event
In line with current government guidelines, this event has a reduced capacity with socially distanced seating. This is subject to change as we monitor government advice. Seat numbers are also subject to change.
Please prepare for your visit by reading our latest Visitor Information here. This includes important information about face coverings, social distancing and measures we have implemented to keep everyone safe when visiting Norden Farm.
---
If you have booked a ticket to watch from home via our website, you can access the live stream on the night of the event by clicking here and logging in to your Norden Farm account.
Click here for a guide to accessing live streamed events and for information on allocating tickets purchased for other households.
Recording of the show is strictly prohibited.