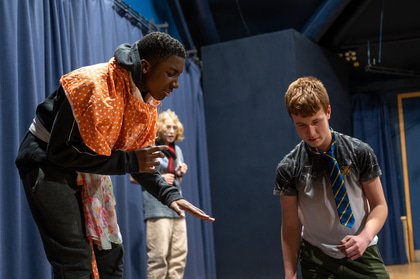 Led by Sideways Drama
Make a Play in 4 Days!
Come along and dive into the world of theatre, writing, directing and star in a brand new play!
Tues 15 - Fri 18 Aug | 10am - 4pm
£160 | £145 Advantage Card holders
There will be film screenings every day after the course has finished:
Tues - Thur 4.15pm – 5.30pm (approx)
Titles are still to be confirmed – keep an eye on the website for details!
Food:
Participants can order lunch daily from our Café Bar by filling out the Lunchtime Choice Form at the registration desk.
The Lunchtime Menu is £7.50 and includes a choice of:
• Healthy Veggie Platter
• Penne Pomodoro
• Cheese & Ham or Cheese & Tomato Pizza with Salad
• Fish Fingers with chips
• Chicken Nuggets with chips
Plus a soft drink and a tub of ice cream

Alternatively there a Picnic Bag is £5 and includes:
• A Tuna, Ham or Cheese roll
• Fruit juice, biscuit, veggie sticks and a packet of Pom Bear crisps