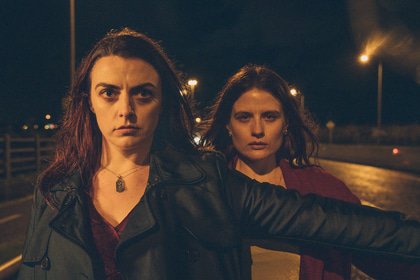 Dir: Cathy Brady 2020 | 85 mins
Lauren and Kelly are inseparable sisters raised in a small town on the Irish border. Their lives were shattered with the mysterious death of their mother.
When her sister abruptly disappears, Lauren is left to pick up the pieces. She is suddenly confronted with the family's dark and traumatic past when Kelly returns home after being reported missing for a whole year. With the intense sisterhood reignited, Kelly's desire to unearth their history is not welcomed by all in the small town. Rumours and malice spread like wildfire, threatening to push them over the edge.
'Story of two sisters, torn apart by family tragedy but drawn together by a bond deeper than anything the local gossips can understand' ★★★★ The Guardian
£10.50 | £9.50 conc
Three Films Ticket Offer
£9 / £8 conc tickets when you book for three films at the same time. Offer excludes event cinema screenings. Offer applied in basket.
Please prepare for your visit by reading our latest Visitor Information here. This includes important information about face coverings and measures we have implemented to keep everyone safe when visiting Norden Farm.