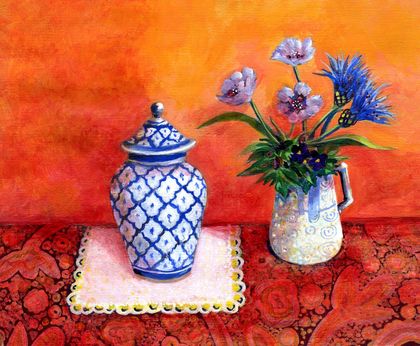 Led by Jo Hall
Over the six weeks we will reference natural forms, and habitats such as rock pools, hedgerows or wooded landscape with their associated plants and creatures to create compositions with a lot of texture and pattern.
Techniques will include knife painting, glazing over colour and monochrome, embedding and impressing forms like seed heads or grasses, incorporating a collaged element, sgraffito.
Please bring your own materials and equipment as in the detailed information below.
Tues 21 Jun - 9 Aug (exc 5 Jul)
12.30pm - 3.30pm
£120 for the six week course
Materials
Acrylic paints and brushes
Palette knife and two painting knives
Suitable support (canvas board, canvas, heavy mixed media or watercolour paper preferably primed with gesso)
Stay wet palette
Matte medium (also glaze and texture medium not essential but useful)
Slow drying medium (that is a medium which slows down drying time enabling more time for blending)
Paper towel, water pots
Table easel, drawing board, tape to fix paper
Sketchbook to plan composition and colour notes.
Some mixed media paper will be available at cost
Reference will be available and you will be encouraged to bring your own.
Do bring a textured natural form for the first meeting; piece of driftwood or similar would be good.
Contact Jo at johall@mhstudios.co.uk if you have questions about the course content or materials.