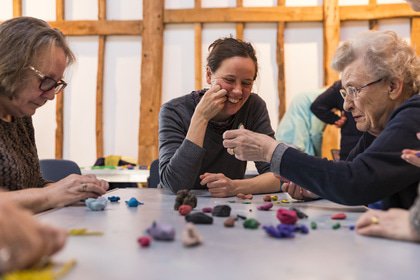 Led by professional artists Amelia Pimlott and Caroline Crawford.
Our sociable group for over 65s who want to make art, but just aren't doing it right now - goes online!
Professional artist Amelia Pimlott leads this creative community with visual artist Caroline Crawford. Explore your arty side, grow in creative confidence, and meet new people!
5-week blocks run via Zoom with additional ideas for activities to do during the week.
Mon 13 Jul - 10 Aug, Mon 17 Aug - 21 Sept, Mon 5 Oct - 2 Nov and Mon 16 Nov - 14 Dec
10.30am – 12.30pm
£75 per 5 week term + materials (list will be supplied)

Mon 13 Jul - 10 Aug: Natural World 1
Led by Amelia Pimlott

Using the theme of the natural world, we will use collage and decoupage techniques for a variety of 2d and 3d projects including producing a landscape inspired by Turner and creating designs for more decorative household items.

Mon 17 Aug - 21 Sept: Natural World 2
Led by Caroline Crawford
Continuing with the theme of the Natural World we will explore a range of different painting mark making and printing techniques using a combination of paints, papers, ink and things that can found around the house.
---
How do our online classes work?
The classes will take place via a video stream on Zoom where you'll be able to use the camera and audio on your tablet, laptop or other device to see and hear the tutor and other participants.
You simply need to book on to your class or workshop of choice as normal by the cut off time. We'll then send you an email with a link to your session, password and a meeting ID. These will be emailed to you after the booking cut off time, shortly before the class begins.
If you'd like to learn more about joining a meeting on Zoom, click here for a handy guide.