Quest Family Fest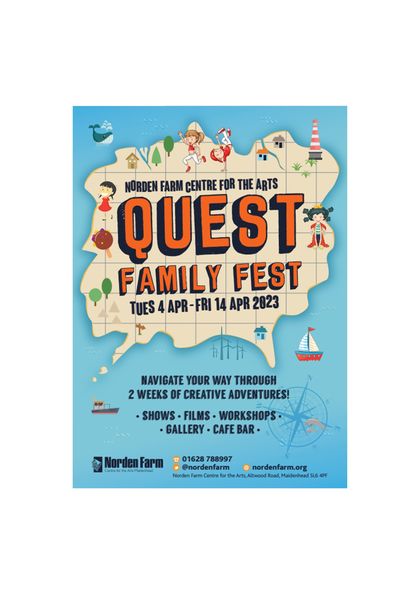 Take on a Quest with activities, shows and films this Spring holiday.
From Tuesday 4 April to Friday 14 April, you can navigate your way through creative adventures and fearlessly explore a land where imagination rules supreme!
Quest is a fun packed fortnight of new experiences for children and families. Including family friendly shows, films and activity clubs.
Children of all ages and their families have the perfect opportunity to try something new with Explore - a full day of one hour workshops on Friday 7 April from 9.30am. Workshops are £4.50 per person or buy a Pass – four workshops for £16 per person. There are over 40 workshops to choose from!
Under the Sea at Quest Island
Dive in to our immersive gallery exhibition here at Norden Farm over Easter. Under the Sea is a wonderful Gallery Exhibition made by local children and Young People with artist Amelia Pimlott and Sound Artist Hannah Marshall. The Gallery at Norden Farm will be transformed into a magical under water space with projections, calming lights and music and kinetic sculptural elements. The exhibition has been created with children with special educational needs in mind and provides a sensory feast for visitors of all ages.
The Gallery is open daily from Tues 14 April to Saturday 15 April.
---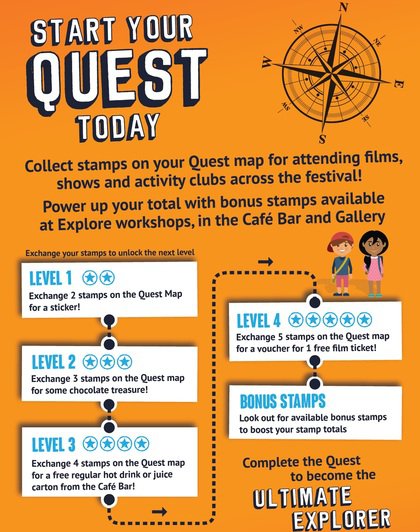 Navigate your way through two weeks of creative adventure with Norden Farm's Quest Family Fest from Tuesday 4 April - Friday 14 April.
This Spring Holiday come on an adventure at Norden Farm and start your very own Quest!
Collect stamps on your Quest Map when you attend a film, show or activity club across the festival.
Power up your total with bonus stamps available at our Explore Taster Workshops Day, in the Cafe Bar and Gallery.
Stamps can earn you stickers, chocolate, a drinks for the Cafe Bar and even free film tickets.
So what are you waiting for? Start collecting as you attend events this school holiday and claim your rewards!
The Rewards
Level 1 – collect 2 stamps for a Quest Family Fest Sticker

Level 2 – collect 3 stamps for a chocolate

Level 3 – collect 4 stamps for a voucher for a free regular hot drink or juice carton from the Café Bar

Level 4 – collect 5 stamps and receive a voucher for 1 free film ticket
---
How does the Quest work?
Collect a map from the flyer racks at Norden Farm or bring it with you from home

Attend events, films and activity courses during the festival

After you have attended, visit Box Office to get your map stamped - all stamps must be on the same map to be eligible

Stamps can only be claimed as you hand in a ticket for an event, receipt from Café Bar or show a photo of yourself in the Gallery

Reached a reward level? Collect your prize from the Box Office

Participants can only complete the Quest once during the 2022 festival and become the Ultimate Explorer

When the top prize has been collected, a member of our Box Office team will punch a hole in the top corner of your Quest Map
---
Terms and Conditions
Questers can collect one stamp, per person, per applicable event

If you attend Explore Day or Art Daze you will only receive one stamp per event named above

Only events with a 'Get Stamped' logo on the map can be awarded a stamp

Stamps must be awarded on the day of the event

When you reach a level, the prize must be awarded on the same day stamps have been earned

Prizes are subject to availability, hold no monetary value and cannot be exchanged

Level 3 reward vouchers must be redeemed by 1/05/2023 and Level 4 reward vouchers must be redeemed by 31/08/2022
Quest Family Fest is supported by The Royal Borough of Windsor and Maidenhead, The Kidwell Trust, The Spoore, Merry and Rixman Foundation, The Louis Baylis Charitable Trust, Tesco Community Champions and The Shanly Trust.
---
Browse upcoming Quest Family Fest Events
---