The Lantern Parade
Norden Farm present
The Carnival of the Animals - Maidenhead's Community Lantern Parade
About the event
The community lantern parade is an annual event produced by Norden Farm, which brings the local community together in celebration to light up the town.
The project runs across a six-week period giving the community opportunities to take part in low cost arts workshops and be a part of spectacular parade and celebratory concert.
We work with practitioners from Same Sky, the largest community arts charity in the South East, to create vivid willow lanterns, which illuminate Maidenhead Town Centre.
The project includes workshops with members of the public, schools and community groups in the run up to the event.
In 2017 over 2500 people participated across the project - with nearly 1500 people taking part in the parade which departs from Maidenhead Town Hall.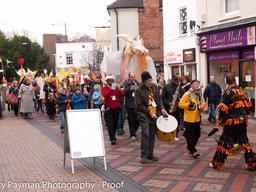 2018 marks the 10th anniversary of Norden Farm's Lantern Parade!
To mark the occasion there will be a special retrospective exhibition at Norden Farm opening on Tuesday 15 January 2019.
If you have photos and videos of past Lantern Parades we would love to see them, and include them in the exhibition.
Email your photos and videos to robyn.bunyan@nordenfarm.org
---
For more information about how you can get involved with the event, please follow the links in the right hand bar.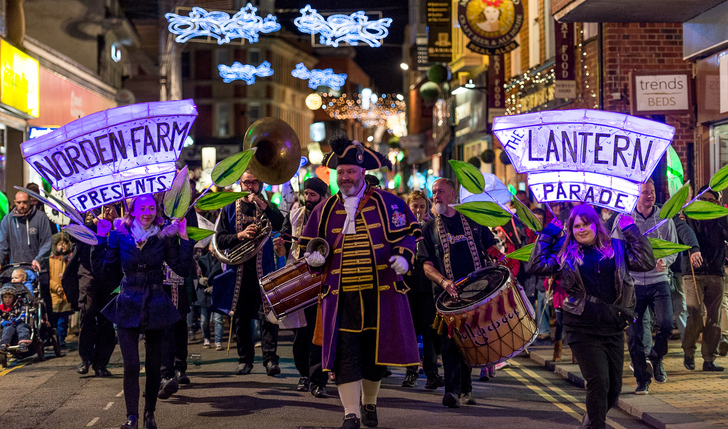 (The Lantern Parade 2015)
2018's event
This year's event takes place on Saturday 8 December.
4.30pm - Live music and entertainment
5pm - Parade departs from Maidenhead Town Hall
5.45pm – 6.15pm - Live music and entertainment continues
all times tbc
For information about how you can get involved click here.
Watch our Lantern Parade mini documentary