Get Involved
Lantern Making Workshops
Our Lantern Making workshops are run by professional practitioners from Same Sky.
Working with willow, withies and tissue paper, participants create animal inspired lanterns ready to be illuminated at the parade.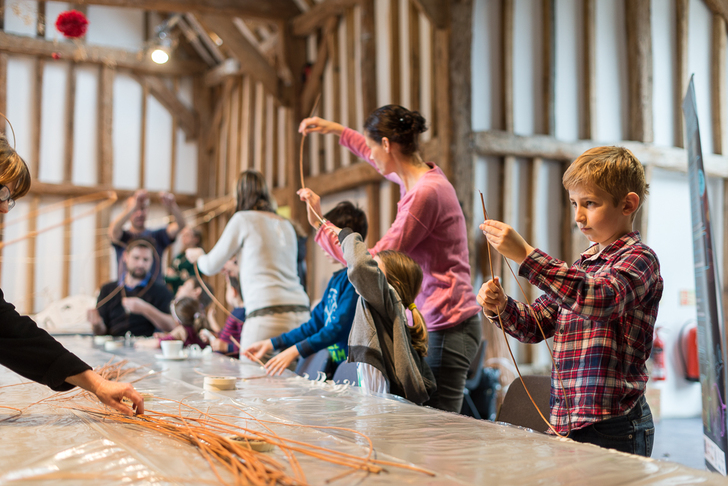 ---
Public Workshops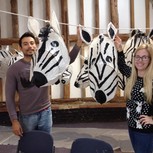 Our public workshops are held at Norden Farm and in Maidenhead Town Centre in the run up to the event.
This year's public workshops take place on the following dates:
---
The Carnival of the Animals – Lantern Making Workshop - family session (6+ years) | £7 per person
Saturday 19 November | 10am – 4pm
Saturday 26 November | 10am – 4pm
Across 2 hours, our artist will guide the group through the process of weaving an intricate animal inspired willow frame ahead of covering and decorating. Suitable for 6+ years. Pre-booking for these popular workshops is essential
Please note – Saturday workshops take place at Norden Farm and last 2 hours. You need to arrive for your booked start time of 10.30am or 2pm. In these workshops, you create lanterns which are more intricate and will take the whole 2 hours to do so. This capacity for these workshops is limited.
The Carnival of the Animals - Lantern Making Workshop - Adult session (17+) | £17.50 per person
Across a full day, working as a group, guided by our professional artist you will create a large-scale willow structure which will shine bright in the parade!
Saturday 3 December | 10am – 4pm
Town Centre Workshops for all ages - dates to be announced
Short and sweet lantern making - get parade ready in 20 mins! Drop in to make and decorate a simple willow and tissue lantern ready to illuminate on parade night.
Suitable for all ages 3+ years
Please note – these workshops take place in Maidenhead Town Centre and are drop in sessions.
Our drop-in sessions allow you to come down to the session at any time throughout the day – you don't need to get there bang on 10am! So, you don't have to rush! Sessions run start at 10am and end at 4pm, and lanterns at our Town Centre workshops take around 20 – 30 minutes to make
---
Take a look at our Lantern Making Workshop FAQs here!
---
Community Groups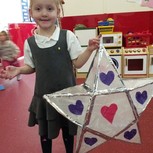 Each year we offer a number of workshops to local community groups.
This year we are working with Family Friends, Thames Valley Adventure Playground and Alexander Devine Children's Hospice and The Autism Group.
---
School Groups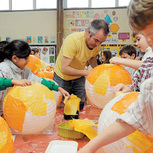 As part of the Lantern Parade project we offer subsidised workshops to local primary schools in the weeks before the parade.
Workshops are suitable for KS2 and SEN students, and take place at your school. The sessions are run by professional arts practitioners, who are DBS checked.
During these hands on workshops students create withie and tissue animal inspired lanterns. The workshops allow children to develop 3D visual skills and experience working with different materials in your school environment.
All schools taking part in these exciting workshops are encouraged to come along with friends and family to see their hard work light up the town during the Parade on Saturday 8 December.
Schools workshops cost: £140 donation per booking, depending on timings we can work with up to 3 classes in a day. (Lantern Parade workshops do not form part of the SMR Farm Out allocation.)
School Workshop bookings are taken directly through Same Sky, but to register you interest, or for more information please email jessica.thompson@nordenfarm.org
---
The Parade
This year's Carnival of the Animals Lantern Parade takes place on Saturday 10 December.
You don't need to have a lantern to take part! – just come on down, enjoy the music, walk the parade and celebrate with the town.
4.30pm - Live music and entertainment
5pm - Parade departs from Maidenhead Town Hall
5.45pm – 6.15pm - Live music and entertainment continues
all times tbc
Live Entertainment
This year we will be joined by the Dhol Drummers and Beatroots who will get us dancing as we move through the town. The Dhol Drummers will end the parade on the Norden Farm stage outside Maidenhead Town Hall.
---
Volunteer
We are always looking for proactive volunteers that can help at the event, and keep the parade moving.
Last year we were joined by around 1600 people on the parade, and expect more people to take part in 2022.
If you would like to get involved on parade day, please get in touch – email jessica.thompson@nordenfarm.org
(Video credit Luminous Photography)