How To Access Live Streamed Events
---
Norden Farm's online events are streamed via a special page on our website.
You'll find the details you need to access your screenings below. All you will need to gain entry is a ticket for the event and the login details for your Norden Farm account.
---
How to access the live stream for online events
1) Before the event begins visit https://norden.farm/live and login to your Norden Farm online account (the login details you used to purchase the tickets)
2) You will then reach a screen similar to the one below, where you will find today's event listed: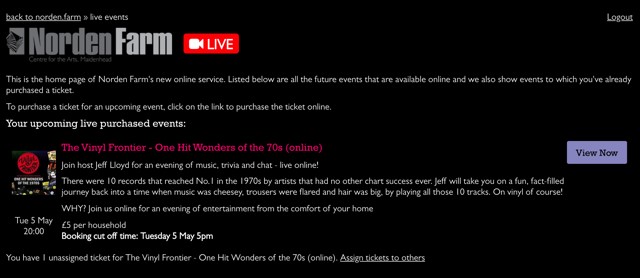 ---
3) Click on 'View Now' and you will be taken to the streaming page
4) Some of our streamed events will feature a live chat feature alongside the stream. You can also choose to access the chat stream alone from a second device whilst watching the event
5) You can make the window featuring the streamed event 'full screen' using the square icon on the image. This will also hide the event chat
---
Events featuring music
For maximum listening pleasure, we recommend that you connect your laptop sound to your stereo / HiFi system / soundbar, etc - or watch the show on your smart TV. You may also be able to connect your laptop to the telly with an HDMI cable.
---
Experiencing streaming issues?
In advance:
• Test your system by streaming something in advance such as YouTube or iPlayer
• Check your broadband speed on the Which? website here, you will need a download speed of at least 5Mbps
• If you can't use a wired connection ensure that you have good WiFi signal and are not too far from your router
• Ensure that your web browser is up to date. If you are still experiencing problems clear the cache and browsing history
• Try using a different browser, we would recommend Chrome, Firefox or Safari
• Ensure that your speakers are on and turned up
• Ensure that your WiFi is secure so that no one else within range can use your internet bandwidth
During the live stream:
If you are still experiencing problems try restarting your router and computer. Ensure that no one else in the household is downloading/streaming/gaming or in any way using up all of your bandwidth!
If there is a problem at our end we will let you know via the event chat.
---
How to allocate additional tickets to other households
If you've purchased tickets for additional households, you can find details about how to give them access to the stream below. We would recommend setting this up as soon as you can in advance of the event.
1) Visit https://norden.farm/live and login using your Norden Farm online account details (please note that this may take a moment to load the first time you log in)
2) Once the page has loaded, it will show that you have unassigned tickets under the listing for your event. One of you tickets will automatically be assigned to you, so the number of tickets to be allocated will appear as one less than the number of tickets you have ordered
3) Click on the link to 'Assign them here'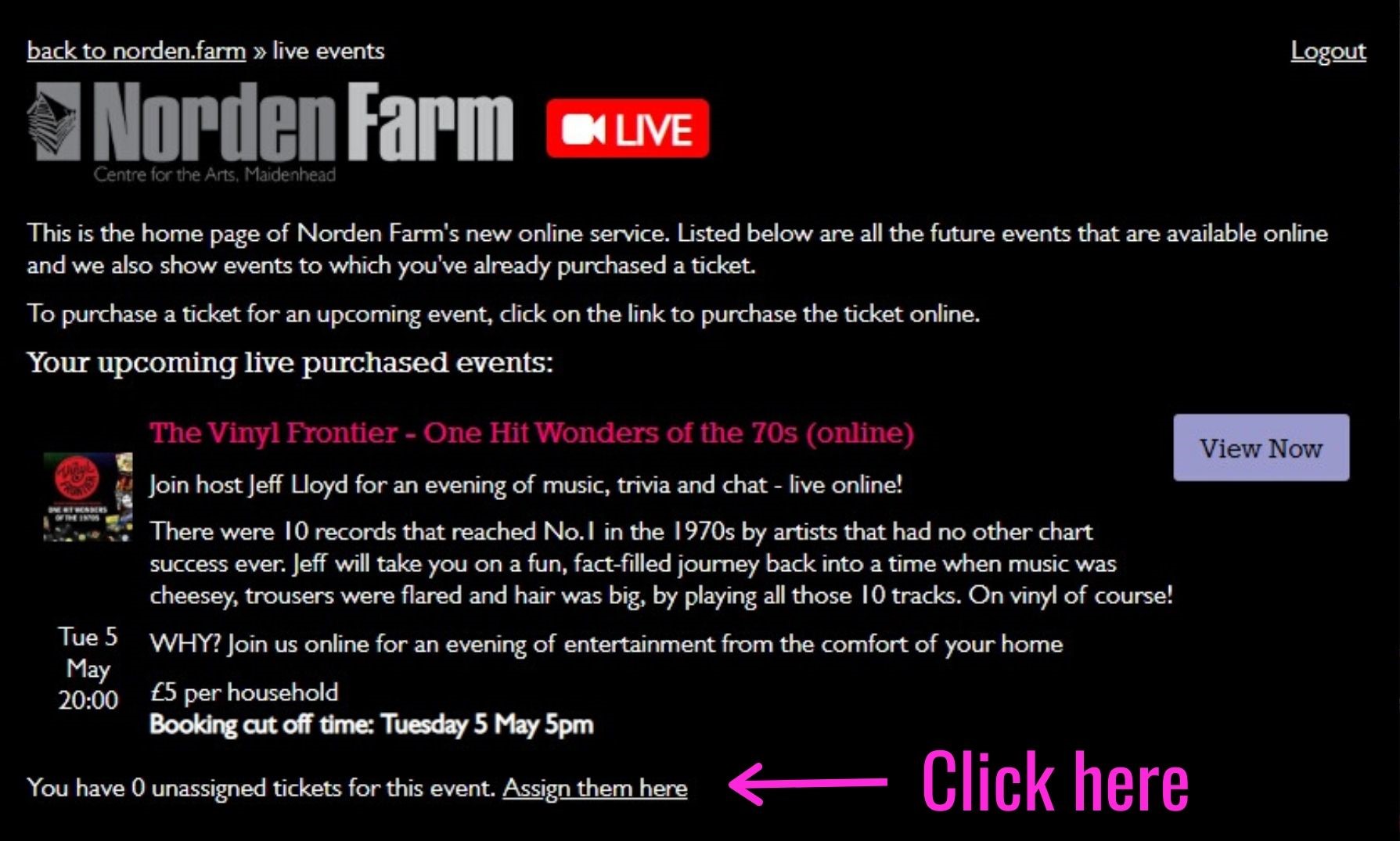 ---
4) This will take you to a new page where you need to enter the first name, last name and email address of the person you are assigning a link to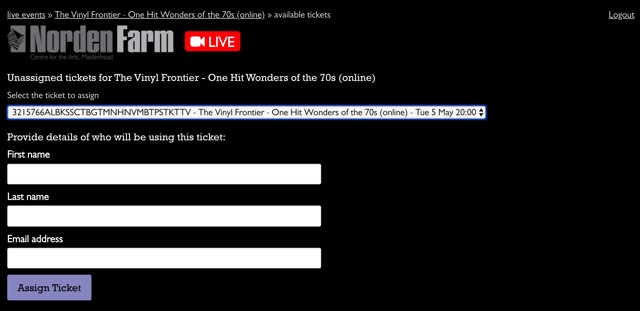 ---
5) Once you have entered the details and pressed the 'Assign Ticket' button, you will receive a success notification
6) If the email address entered is already associated to a Norden Farm account then it will assign the ticket to that. If not, it will create a new account for the viewer. Your guest will receive an email when the account is created
7) The person you have assigned a ticket to will then receive an email with a link to access the stream for the event. They will not require a password to allow them to view the stream
---
Click here to browse all upcoming live streamed events
---