Pick Your Own: The Farm Recommends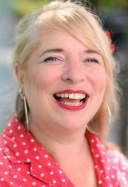 Dear Friends
Thank you for keeping the faith and finding ways to keep the arts in your online life. This month, July, we start to present live performance from our very own Courtyard stage at Norden Farm, so it's time for me to hang up my blogging shorts. Sure, you're can't actually, physically come and see anything yet, but you can watch from your very own sofa, through the magic of technology as we live stream shows onto the Norden Farm website.
These will be blended performances with plenty of interactive opportunities, so get involved. In the meantime, we continue to grow our online classes where you can do anything from zen art to guitar with lots of stuff for children and young people as well. Also keep your eye out for projects including the virtual Kite Festival, coming soon to a device near you.
We plan to open our doors in September with films and classes and of course the all important Café Bar, so look forward to seeing you then for reals.
Jane x
Chief Executive and Artistic Director
---

---
Dear Friends
Time to get the tents up in the garden for a proper DIY festival – It's Glast-Home-Bury everyone. Enjoy footage from the past on the BBC or pop on your headphones for the real deal soundscape created by award-winning sound designer Gareth Fry and presented by the V&A as part of their exhibition at Worthy Farm and access all areas from the Park Stage to the Greenfield.
For a different type of outdoor music offering, how about Glyndebourne? Make yourself a fancy picnic and enjoy sumptuous opera, the perfect escapism. This week as part of their open house programme it's Handel's Rinaldo his very first opera for the London stage, featuring Knights, Sorceresses, Scheming and Battles.
---
---
There's only one play for this time of year, it's got to be The Dream. The Bridge Theatre production (the one where you had to stand up and move around in a forest of flying fairies) of Shakespeare's hands down best number is streaming from tonight (Thursday 25 June) on the National Theatre YouTube channel. Hurry ends next Thursday evening.
---
---
The fabulous Phoenix Dance Theatre always impress. Marking Windrush Day, they're releasing Windrush: Movement of the People, their show about the arrival of SS Empire Windrush that brought the first Caribbean migrants to the UK. An uplifting celebratory work with a gospel / reggae / calypso soundtrack and take your breath away talented dancers.
---
Pride & Protest | BFI Flare Trailer

#PrideAndProtest refuses to shy away from the many issues faced by Britain's LGBTIQ+ black & people of colour communities. Join us for a free screening + Q&A with Blaise Singh, Ferhan Khan, Vaneet Mehta and Manpreet Dhindsa, part of the BFI Pride House Party. https://theb.fi/3hHem5m

Posted by BFI Flare on Thursday, June 18, 2020
---
The BFI celebrates Pride weekend this Sunday 28 June with a special event around documentary feature Pride and Protest. Blaise Singh's film looks at issues faced by LGBTQ black and people-of-colour communities, and follows several activists as they fight to hold on to their pride in a racist and homophobic society. BFI Player at 4pm, with a director Q&A to follow at 6pm via the BFI's YouTube channel, and then a special BFI Pride edition of Queer House Party. All the elements are free, ticketed events - sign-up is available here.
We've all been sitting too much apparently. Peut Etre Theatre says It's time to get up and dance. This clever company has created podcasts to inspire us to get moving without watching yet another screen. So move around the room like there is a bird fluttering in your belly, wriggle your feet as if you have jelly knees, move your arms as if you are underwater seaweed… yes please, I'm in!
---
---
We are huge fans of Brighton based, new writing company, Take the Space. As part of their process to make their show, White Feather Boxer, about a conscientious objector in the second world war, they talked to local Quakers in Maidenhead. Watch footage of their tour here.
Jane Corry x
Chief Executive and Artistic Director