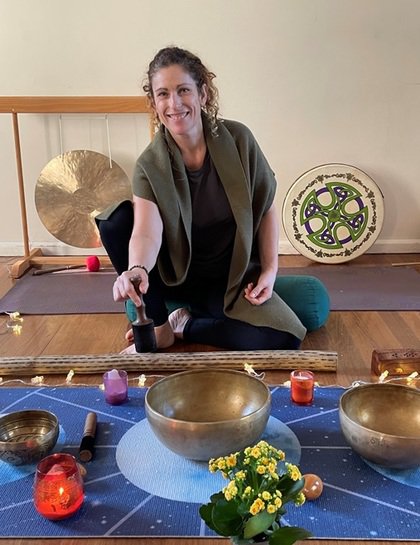 Led by Janette Moy
Sound Baths are deeply relaxing, anyone can join in. Lay down, cosy and Janette will share beautiful sounds of Gong, Tibetan bowls, Irish Drum ( Bodhran ), Rainstick, Sansula, Kochi chimes and more. Taking you on a journey into the heart of Sacred Sound.
As you relax and bathe in the healing vibrations, your body resonates within these pure tones and you begin to feel retuned and in harmony. Healing can happen at cellular level, our bodies, mind and emotions draw from the sounds the vibration that is needed to bring us into inner balance.
You will need to bring a yoga mat or blanket to lie on. A small cushion for under head comfort. A blanket to cover up. Anything else you want to bring to make a cosy nest. Eye mask if you use one.
We also run daytime Sound Bath classes, click here to find out more.
Autumn
Fri 8 Sept, Fri 6 Oct, Fri 3 Nov, Fri 8 Dec
6.30pm - 7.30pm
£15 per session
Suitable for 18+ years
Please note, to prevent disruption to the class, latecomers may not be admitted.