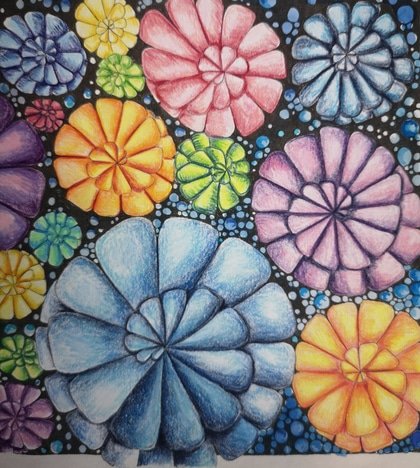 Led by Amanda Schenk
Amanda Schenk is the visual artist behind Norden Farm's much-loved (and Instagrammed) glass corridor artwork in the school holidays. Join Amanda for this new drawing course, aimed at helping to create a sense of calm and relaxation through drawing patterns and exploring colour.
Suitable for all abilities, the workshops will focus on building confidence in your art making abilities - concentrating on the soothing journey of the drawing and playing with colour.
In each session explore drawing abstract patterns and the different ways you can enhance your designs using colour pencils and bright watercolours.
You will need: Art paper (Minimum 140gsm), lead pencil, eraser, sharpener, black fine liner, watercolours, colour pencils or Aquarell colour pencils, fine brushes.
Or simply order an Art pack for £26 from Amanda via email ([email protected]). Packs will need to be ordered by Sunday 21 February and collected from Norden Farm Take Away on Fri 26 Feb, 12pm - 8pm & Sat 27 Feb, 12pm - 8pm.
Art Packs contain – Pack of 4 fine liner pens, 2 brushes (size 4 & 8), A4 Heavyweight paper pad, Aquarell Colour pencils Pack of 12 (water soluble) Koh-i-Noor Anilinky Brilliant Watercolours - set of 12.
Mon 1 Mar - 29 Mar (except 15 Mar)
7.30pm – 8.45pm
£8 per session, £28 per 4 week course
Booking cut off time: 6pm on the day of the session
---
How do our online classes work?
The classes will take place via a video stream on Zoom where you'll be able to use the camera and audio on your tablet, laptop or other device to see and hear the tutor and other participants.
You simply need to book on to your class or workshop of choice as normal by the cut off time. We'll then send you a booking confirmation email with a link to your session, password and a meeting ID.
If you'd like to learn more about joining a meeting on Zoom, click here for a handy guide.