Norden Farm Recommends Thursday 9 April

---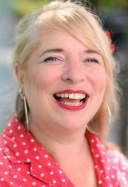 In this strange new world, it feels like we need the arts more than ever to brighten up our lives. Whilst The Farm is shut, I want to keep my creative mind open and so this is the first of a series of blogs, to share some online ideas for you to explore.
Jane Corry x
Chief Executive and Artistic Director
---
Comedy at the Covid Arms, is an exciting new virtual comedy club, that raises funds for performers and the Trussell Trust food bank network. Performers include Norden Farm favourite Mark Watson with Kiri Pritchard Mclean and Aisling Bea. You can get tickets for their next show on Saturday 11 April here.
---
It's time. Go Down. Beth Steel's epic hit #HTWonderland is now live and available to watch for free on The Guardian and...

Posted by Hampstead Theatre on Monday, April 6, 2020
---
For your theatre fix, how about Hampstead Theatre's Wonderland. Directed by the theatre's previous Artistic Director, Edward Hall, this epic and witty drama takes a look at the clashing ideologies during the UK's Miners' Strike of 1984–85 and presents the full sweep of the turbulent events that transformed the country.
It's going to be a sunny bank holiday weekend - and many of us would love to be in a pub garden. How about this as a virtual substitute, Brewdog Pub Quiz, Friday 3 April at 6pm. It's hosted by Famous First Word's Tim and Gendle and has live music from a special guest.
---
---
Comedy Home Schooling Tips from the very funny Nick Mohammed who we've been trying to get to The Farm for a few years now – not giving up on that!
Teach your kids new jokes ready for the eventual 'back to school'. School's Out Comedy Club, is run by Dad and stand-up comic, Phillip Simon. He does short videos full of jokes – most of which have been sent in by the children. Though grown-ups can also get involved - so long as their jokes are child-friendly! You can subscribe here.
Bet you've never tried an Interactive murder mystery event? No me neither, but this looks fab. The year is 2315. An away team of the Captain and 4 officers from the Galaxy Spacecraft Atlantic transported down to Planet Kappa-7 to seek a place for new life. After a successful peace treaty mission at Theta-6. On returning to the ship, they found the ship deserted. Within 24 hours the ship's self-destruct sequence was activated, the crew and Captain were forced to evacuate the ship... Captain's escape pod didn't launch – the four remaining crew members are on their way back to Earth... Can you solve the mystery of who (or what?!) caused the mission to fail and Captain's escape pod to malfunction?
Good things to come out of the crisis, brand new Adam Buxton podcasts – where he talks with interesting people. If you're new to his work – checkout the back catalogue to!
---
We're *very* excited to launch DU: Dancing From Home: 5️⃣ days of FREE dance workshops led by professional dance...

Posted by Dance Umbrella on Tuesday, April 7, 2020
---
Finally, to work off all of that Easter chocolate, connect with your inner dancer with our friends at Dance Umbrella, and get involved in Dance Workshops with professional dance artists. Over 5 days you will have the chance to try out different dance styles including Contemporary, Hip Hop, Bhangra Hip Hop Fusion, Yoga for dance and an introduction to choreography. They run from Monday 13 - Friday 17 April at 3pm. Visit the Dance Umbrella website for full timetable.