Pick Your Own: Thursday 11 June

---
Dear Friends
The horrific murder of George Floyd has shocked us all. What can we do as individuals to create an anti-racist world? Whilst we're working that out, we urgently need to get ourselves educated and reading is a place to start. Layla F Saad at The Guardian has put together an anti-racist reading list here. #blacklivesmatter
Koko Brown's solo show, WHITE, a spoken word and live-looping exploration into black mixed race identity, and short-listed for the Amnesty International Freedom of Speech Award is on the Brixton House 360 video player. Join the watch the party tonight (Thursday 11 June) and then get involved in the Q&A on Twitter.
---
---
London Indian Film Festival have teamed up with the Birmingham Indian Film Festival to bring you #LoveLIFFatHome showcasing the best of independent Asian film making. Stream feature films, shorts and masterclasses and up your viewing game.
Dreaming giving you some escapism from Lockdown? The Life Science Centre in Newcastle are exploring lucid dreaming as part of their virtual science speakeasy programme. Thursday 11 June 8.30pm - capacity limited. Telephone dial in also available for friends / loved ones not online.
---
Lucid dreaming puts you in control of your subconscious, which can be a thrilling ride. But there are potentially dark...

Posted by Science at Life on Sunday, June 7, 2020
---
On Fridays (and Tuesdays) at 10.30am hang out with scientists at the Natural History Museum. Use the chat box during the talk to ask questions. This Friday it's all about volcanoes.
Improve your comedy shtick courtesy of the Soho Theatre who are running a Comedy Masterclasses Series which includes individual workshops with Jessie Cave, Jen Brister and Shappi Khorsandi. Places strictly limited.
PE with Joe starting to wane? Inject a bit of fun into your workout with Drag Aerobics hosted by fabulous drag superstar, Dolly Trolley. Every Wednesday 7.30pm.
---
---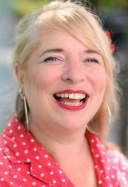 National Theatre we love you – not only brilliant encore screenings – this week it's Coriolanus in partnership with the Donmar Warehouse (yes the Tom Hiddleston one) but also, your quizzes rock.
Join a team of secret agents and execute a daring heist from the comfort of your sofa. Featuring a live cast and digital clues, expose the crimes of an evil corporation and save the day. Sign up for Agent Venture for a digital immersive special on Thursday 11 June.
Jane Corry x
Chief Executive and Artistic Director