Pick Your Own: Thursday 14 May
---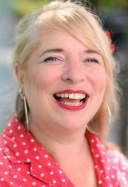 Dear Friends
The Prospero Library is packed with interactive theatre and arts resources, including how to create the perfect lip sync. This feature, 'Dark Theatre' is an interactive comic book where you get to play detective in a cryptic whodunnit. Great for families with kids age 10 – 13 years.
Re-discovering things you'd forgotten you loved has been a small upside of the enforced stay-at-home. Hands up who wanted to be a Ballerina? Tiny dancers are well catered for at Norden Farm with Ballet Beats but adults can get involved at the virtual Rambert Dance Company Home Studios. Ballet for adults is every Monday at 6pm – it's so on point.
---
---
The National Theatre never disappoints. This week The Barbershop Chronicles, from Thursday 14 May (7pm) is free to watch for a week. Written by the hugely talented Inua Ellams who performed The 14th Tale in the Studio at Norden Farm way back in 2010.
---
---
On Saturday, join the West End Musical Brunch gang as they take their party online. Special west end guests will be performing live along with interactive musical theatre themed games and a Q&A with the stars. Prepare your brunch, pop a bottle of Prosecco, gather the family or join your friends remotely to share in the fun and singalong. Tickets available here.
Gardening has taken on a whole new significance for me and my family. Palpable excitement this week as the coriander and broad beans both sprouted – happy days! How are the vast gardens, like Kew coping with lockdown and no-one to tend the plants? Find out here – and take a virtual tour around for gardening inspiration. Then head down to our friends at Stubbings Nursery who excitingly re-open on Wednesday and get your green fix.
---
We're delighted to announce that we will be making #TheEncounter available to watch online from Fri 15 May 7pm - Fri 22...

Posted by Complicite on Tuesday, May 5, 2020
---
Get your headphones on to experience the binaural sound design in The Encounter from the extraordinary Theatre Complicite. Free to watch and available from Fri 15 – Fri 22 May. Live discussion and Q&A event at 7.30pm on Wed 20 May with Complicité's artistic director Simon McBurney and filmmaker Takumã Kuikuro.
Jane Corry x
Chief Executive and Artistic Director