Pick Your Own: Thursday 28 May

---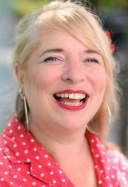 Dear Friends
DIY fun is the new way we live. Transform your cabin fever to disco fever this weekend with some online karaoke courtesy of lucky voice. Hours of entertainment await you!
Only one more evening to catch the brilliant Young Vic production of A Streetcar Named Desire starring Gillian Anderson. Next up from the National Theatre menu is This House, a portrait of British politics – great timing everyone! Available from Thursday 28 May 7pm here and donate here.
---
---
We love the Little Angel Theatre Company, based out of the cutest, tiniest, and only puppetry theatre in London. They have put together a whole host of exciting activities. This week learn to make a rod puppet and donate to this important independent institution.
A few years ago, I stumbled on a gorgeous family show at the Edinburgh Festival called The Big Red Bath – we brought it back to Maidenhead and happily you all loved it too. Fast forward to now, and the company, Full House, whose touring days are on hold, have issued a reading of Big Red Bath by the author Julia Jarman from her very own Big Red Bath at home.
---
---
The Dublin International Literary Festival are responding to their postponement by issuing a series of podcasts from their back catalogue - listen in to Naomi Klein or Chimamanda Ngozi Adiche then find a sunny spot, lie back and read their books. Heavenly.
---
ILFDublin presents Portals

We're very excited to announced a new #ILFDublin podcast series, Portals. Hosted by Caelainn Hogan, Portals takes listeners beyond their radius, through conversations with a half-dozen writers from across the globe. First episode lands Mon 18 May. Read more: http://sh1.sendinblue.com/2ngqmqhv9t7e.html?t=1588949569

Posted by International Literature Festival Dublin on Friday, May 8, 2020
---
Staying with the literary and cerebral, the ever inventive Hay Festival has gone digital and streams online till Sunday 31 May. This week engage with ideas around 'A World Without Work'; so timely, with Daniel Susskind (Friday 29 May live at 4pm) or the effects of Covid on our psyche with Spanish philosopher, Fernando Savater (live on Friday at 8.30pm).
If you're late to the 'George the Poet' party, now is the time to get on board. You can catch his podcasts and his latest work made in response to the crisis here.
Jane Corry x
Chief Executive and Artistic Director