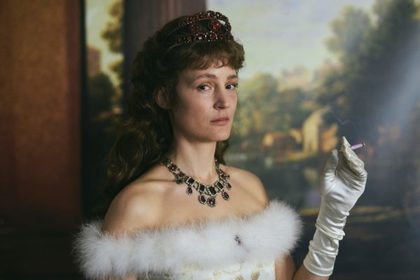 Dir: Marie Kreutzer 2022 | 113 mins
Empress Elizabeth of Austria is idolised for her beauty and renowned for inspiring fashion trends. But when she turns 40, she must fight to maintain her public image by lacing her corset tighter and tighter.
While Elizabeth's role has been reduced against her wishes to purely performative, her zest for life makes her more and more restless in Vienna. She travels to England and Bavaria, seeking the excitement of her youth.
With a future of strictly ceremonial duties laid out in front of her, Elizabeth rebels against the hyperbolised image of herself and comes up with a plan to protect her legacy.
A bold and timely reflection on a woman's worth in 19th century Europe.
'Dramatic complexity is found in Elisabeth's capacity to wrestle with her own myth while bucking against the demands of tradition' ★★★★ The Times
'It's riveting stuff, aided by Vicky Krieps's bold and brilliant turn' ★★★★ Time Out