F
C
C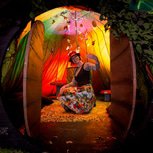 Sunday Stories
Interactive storytelling in the magical story den.
Join in or unwind in the Café Bar with a latte and the Sunday papers, while your little ones get involved in telling stories from all over the world. Age guidance 4 – 7 years.
WHY? A sociable, creative and entirely relaxed way to do Sundays for families with young children
Stories on Sunday 12 November:
The Magical Flying Carpet and a Patchwork of Other Fantastical Tales
£3 per person (45 mins)
S
C
To Helen Back
Helen Seymour admits you into a surreal hospital to create a funny, unique and powerful theatrical experience. It blurs the boundaries between spoken word, comedy and performance art.
So come on, be on the look-out while Helen sneaks around wards, X-ray rooms and cupboards to discover the bizarre, the bemusing and the ba… ah, well that would be telling.
WHY? A witty, thought provoking analysis of sickness, health and what it really means to recover
Studio
£14 (£12 conc)