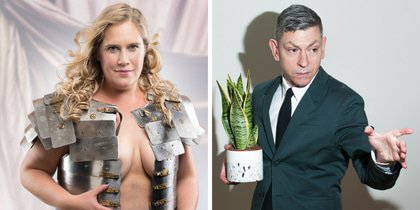 Lucy Frederick – Even More Naked
Some years ago, the comedian appeared in a reality TV show in which she had to get naked. Like, completely naked. No socks or anything. And while that might sound alarming, she's since discovered that actually, there's a far more terrifying way to get your bits and bobs out for other people. And you don't even have to take your coat off.
This show is another eye wateringly honest confessional from Lucy about having courage and taking the plunge with life, friendships and love.
A show about negotiating the tricky world of emotional intimacy while wearing a giant suit of armour.
WHY? 'A genuinely gifted performer, I am so happy l found this show…' ★★★★ The Scotsman
'Quite frankly, she's pretty adorable' ★★★★ TVBomb

David Mills – Focus People
Smart, sharp, laugh-out loud stand up comedy for adults sick of being scolded by celebrities and policed by children. David gets you through the coming apocalypse feeling dynamite.
The London based American actor and comedian has a cocktail-lounge-lizard image which belies an acerbic wit cut with fire-and-brimstone rants! Smart observations on contemporary life are set to superb comedic delivery alongside witty banter and salty sarcasm.
'A superior act. Politics to surrealism... an hour in his company an indulgent delight.' ★★★★★ Chortle
'Essential viewing' ★★★★ BroadwayBaby
Studio
£12