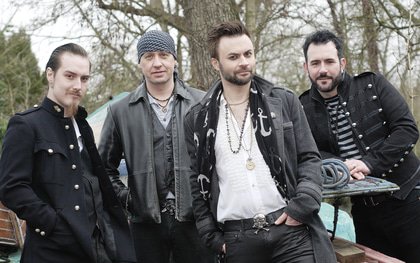 Playing a rollicking, roustabout mix of classic 80s energetic indie, sea shanties, rockabilly and surf-rock.
If you've forgotten the time when indie was fun, here's your chance to get re-acquainted. After conquering the Oxford music scene and numerous festival appearances including Glastonbury, the Pirates are coming to Maidenhead.
WHY? 'Their indie-shanty schtick has become one of the best nights out in Oxford' Oxford's Nightshift Magazine
Click here to view the band's website

Peerless Pirates are supported by Into the Autumn. The band is the brainchild of songwriters Damian Carruthers and Danielle Moubarak (AKA Tiger Lilly). The suburban duo got together in 2015 and have been performing a captivating set of quirky indie pop songs and love ballads inspired by their individual life experiences. Both entertaining and heartwarming the duo are a crowd pleaser wherever they go.
Click here to read more about Into the Autumn