Young Leadership Scheme
As well as our Work Experience programme we also run the Young Leadership Scheme.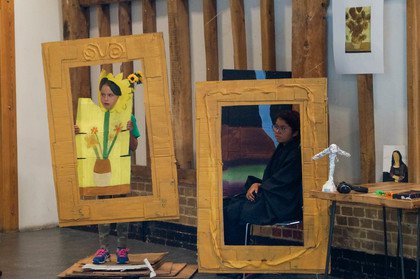 The Young Leadership Programme at Norden Farm allows students to gain hands on work experience.
The programme, which runs throughout the Easter and summer holidays is open to young people, aged 14- 17 years.
This Easter we are recruiting Young Leaders to work with us on our Quest Family Fest. Participants can join us from Tues 4 April to Friday 7 April and from Tuesday 11 April to Friday 14 April. During the Easter break participants will work on our Quest Gallery installation, assist with workshops and with Front of House, work alongside professional artists and performers and lead an end of week open workshop for local children and families.
During the Summer Holiday 2022 we ran two Young Leader's programmes:
Drama Week
Two Young Leaders joined our drama team to assist with the creation of our Play in Four Days. Helping to deliver workshops to a group of young people who and performed a play to a live audience here at Norden Farm. Young Leaders helped with workshops, created marketing materials for Norden Farm, and delivered their own 45 minute workshop to the group.
Art Week
During this week we took two Young Leaders on an artistic adventure, participants took part in many exciting artistic workshops, assisting our on site artist to deliver a programme of arts events to young people, creating posters and marketing materials for Norden Farm and running their own workshop.
If you are interested in taking part in our Easter 2023 Young Leaders Programme please complete the attached form and return it to Jessica Thompson.
Participation in this course can be used toward Bronze, Silver or Gold Arts Award and DofE Award.
The Young Leadership Programme at Norden Farm is supported by The Spoore, Merry and Rixman Foundation.
If the embedded form does not show on this page, either refresh the page or click here to view the application form
---