F
E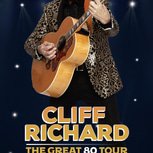 Cliff Richard Live – The Great 80 Tour
This October he invites you all to be part of the most fabulous big screen party of the year!
The Great 80 Tour will be broadcast LIVE from the Royal Albert Hall to our big screen on Wednesday 27 October. Featuring a selection of his greatest hits, this will be Cliff Richard's most exciting tour yet. His incredible energy and passion on stage will sweep you off your feet and be sure to have you swaying in the aisles.
Courtyard Theatre
£15
F
E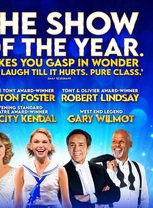 Anything Goes - The Musical
Encore screenings from the Barbican.
Don't miss Anything Goes, 'the show of the year' (★★★★★ The Telegraph) and a 'fizzing tonic for our times' (★★★★★ The Guardian) when it sails into cinemas nationwide.
Filmed live at the Barbican in London, this major new 5-star production of the classic musical comedy features an all-star cast led by renowned Broadway royalty Sutton Foster reprising her Tony Award-winning performance as Reno Sweeney, alongside three-time Olivier Award and Tony Award winner Robert Lindsay (My Family), Evening Standard Theatre Award winner Felicity Kendal (The Good Life) and beloved West End Legend Gary Wilmot (Chicago).
A heart-warming romance spectacular dance routines and some of theatre's most memorable songs, Anything Goes is 'a joyously shipshape revival' (★★★★★ The Observer).
When the S.S. American heads out to sea, etiquette and convention head out the portholes as two unlikely pairs set off on the course to true love... proving that sometimes destiny needs a little help from a crew of singing sailors, a comical disguise and some good old-fashioned blackmail.
This hilarious musical romp across the Atlantic, directed by the multi-award-winning Broadway director and choreographer Kathleen Marshall, features Cole Porter's joyful score, including I Get A Kick Out of You, You're the Top and the show stopping Anything Goes. The 'musical equivalent of sipping one glass of champagne after another' (★★★★★ The Times), Anything Goes will take you back to the Golden Age of high society on the seas from the comfort of your cinema seat.
Courtyard Theatre
£15