F
E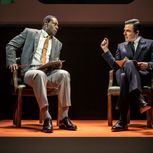 National Theatre Live: The Best of Enemies
David Harewood (Homeland) and Zachary Quinto (Star Trek) play feuding political rivals in James Graham's (Sherwood) multiple award-winning new drama.
In 1968 America two men fight to become the next president. But all eyes are on the battle between two others: the cunningly conservative William F. Buckley Jr., and the unruly liberal Gore Vidal.
During a new nightly television format, they debate the moral landscape of a shattered nation. As beliefs are challenged and slurs slung, a new frontier in American politics is opening and television news is about to be transformed forever.
Jeremy Herrin (All My Sons) directs this blistering political thriller, filmed live in London's West End.
Courtyard Theatre
£16
F
E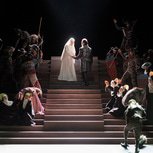 Royal Opera House Live: Il Trovatore
Live screening. Sung in Italian with English subtitles.
Passions run high as Manrico and the Count di Luna compete for the affections of Leonora. Little do they know, Manrico's mother Azucena has been keeping a terrible secret for decades. Soon a curse from the past will rise up from the ashes with devastating implications for them all. Starring Ludovic Tézier and Jamie Barton, Adele Thomas's energetic staging sets Verdi's tale in a Hieronymus Bosch-inspired universe of medieval superstition. Antonio Pappano conducts Verdi's dramatic score, which features the famous 'Anvil' chorus.
'A wonderful evening!' ★★★★★ Opera Gazet
'A resounding success' ★★★★ Bachtrack
Suitable for ages 8+ years.
F
E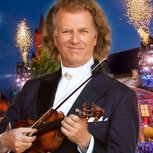 André Rieu's 2023 Maastricht Concert – Love Is All Around
The King of the Waltz invites you to his all-new cinema concert Love is All Around, from his beautiful hometown of Maastricht!
André Rieu will again stage his glorious annual summer event in the iconic Vrijthof Square this year. The concert will be a musical feast with heart-warming pieces lovingly chosen by André, covering classics, popular sing-alongs, and delightful waltzes that make you want to dance.
Along with his beloved Johann Strauss Orchestra, André teams up with the charming Gospel Choir and special surprise guests, bringing you and your loved ones a refreshing, romantic, fun party at your local cinema - you will feel that love is all around!

Share a concert experience filled with music, dance, love and happiness - Only in cinemas!
Courtyard Theatre
£16