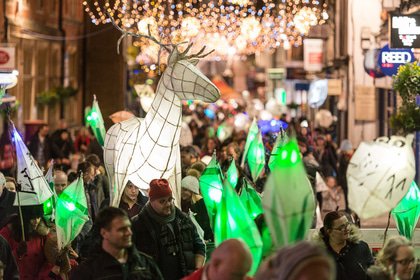 Celebrating 10 years of the Norden Farm Lantern Parade, this exhibition brings together photos, lanterns and film footage from past parades and workshops. We'd love to see the parade through your eyes!
Send your pictures to lucy.hobbs@nordenfarm.org for the chance to have them featured in the exhibition.
Grown from the modest beginnings, the lantern parade is now a firm favourite in the town's calendar. With workshops taking place across Maidenhead with community groups and schools, and a parade and finale concert starting and ending at the town hall, this ever popular Norden farm project has much to celebrate – here's to the next ten years!