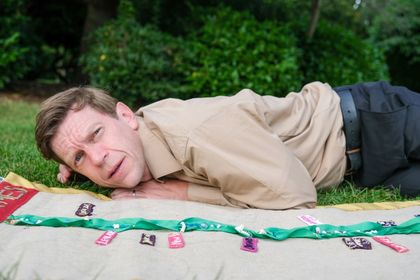 Presented by Stan's Cafe.
What makes a river special is what happens along it, on it and in it.
Stan's Cafe survey rivers, noting down the positions of all bridges, dams, major settlements and confluences along their lengths, then commission textile artists to turn this data ribbon maps.
To compliment these maps they commission guided tours. Some start at the river's source, others at the river's mouth. They cover thousands of years of history, beautiful natural history, famous sights and fascinating facts.
Spend a relaxing hour with Craig Stephens, from the theatre company Stan's Cafe, as he takes us on a trip down the river Thames. Our journey, brimming with nature, history, inspiring art and design, tales of sewerage and ceaseless human invention is illustrated by a beautiful 1.7m long textile ribbon map made by the artist Vicky Roden. Beautifully written, engagingly performed, witty and educational.
Stan's Cafe have been making and touring original theatre from their base in Birmingham for over 30 years. Their playful, inventive performances have toured the world.
'Wonderful, an Inspirational performance full of charm and humour, brilliant, mind expanding writing and stunning needlework.' Audience Member
Studio
£15
Stan's Cafe Theatre Company website
@stanscafe
@nordenfarm