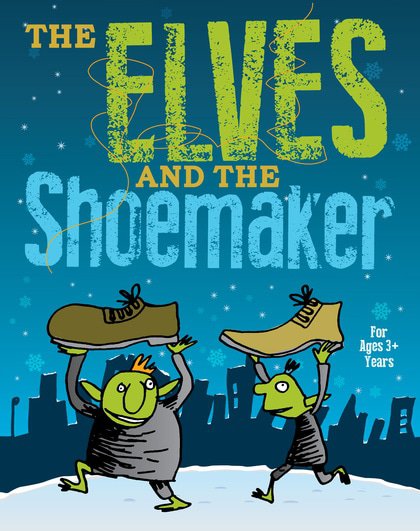 Sam Lacey makes terrible shoes... until one night when two tiny visitors climb in through the window and start cutting and stitching and gluing… Sam's life is never quite the same again!
The show features stunning puppets, music and a whole host of surprises.
Stuff and Nonsense Theatre Company join us this Christmas with an up-to-date, size 13½ re-telling of everyone's favourite story about elves and shoes! With puppets, dancing, comedy and quirky songs – will there be a happy ever after?
Are you ready for shoes made of bread… shoes that can make you dance… feather shoes that tickle your feet until you can't stop laughing?
Suitable for ages 3+ years. The running time is 60 minutes.
What are people saying?
'Filled with musical interludes, dancing, songs and comedy, this is captivating and engaging theatre at its best' Families Magazine
Click here to read the full review.
'Heart-warming and light-hearted as it should be - with a good dollop of slapstick fun' Maidenhead Advertiser
Click here to read the full review.
'There is, of course, a feel good factor, a message about helping each other and making friends, but most of all it's an entertaining 55 minutes which will hopefully nurture future theatre audiences' Primary Times
Click here to read the full review.
'A humourous, truly adorable, no 'nonsense' production' The Little Book
Pre-show 'Touch Tours' for children with autism and blind and partially sighted children can be arranged (morning performances only, limited availability).
£13.50 (£11.50 Under 16s)
Family & Friends (4 people) £46
Groups £12.50 (Group rate applies to bookings of 10 or more seats for constituted groups or 20 or more for family and friends)
Supported using public funding by the National Lottery through Arts Council England. Commissioned by Lighthouse, Poole's Centre for the Arts and The Brewhouse Theatre & Arts Centre, with additional support from Salisbury Playhouse.