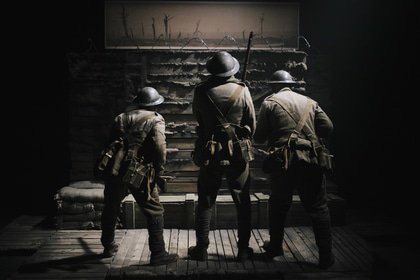 Written by Jesse Briton
"Nee killing, anly singing, and we all go home together."
It is November 1917 and the Third Battle of Ypres is lurching towards its bloody conclusion. Young soldiers Will, Robbie and Jumbo are thrust into a landscape starkly different to the playing fields and estates of their Sunderland home.
United by their childhood oath "nee killing, anly singing", Robbie dreams their music will be a ticket away from the front, but attracting the attention of their commanding officers may prove more dangerous than bullets and gas.
Nominated for Best Play for Young Audiences at the Writers Guild of Great Britain Awards 2015, The Muddy Choir tells the story of three soldiers serving with the Durham Light Infantry. Including traditional wartime songs, it is a play about childhood friends growing up in unbearable circumstances and the humanising power of music.
WHY? 'A sensitive memorial to a generation of young men' ★★★★ The Stage
Click here to read the full review
Suitable for ages 13+ years.
Presented by Theatre Centre
Courtyard Theatre
£15 (£13 conc)