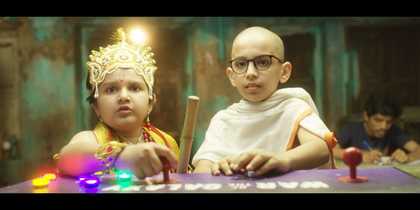 Dir: Manish Saini, India 2022 | 101 mins
Gujarati with English subtitles.
An eleven year old begins mimicking Gandhi in dress and behaviour, but fails to imbibe his famed values.
Mintoo and Mitra are best friends known for being mischievous. They look up to an elder, Bharat Bhai, who embodies Gandhi's teachings. When Mintoo decides to mimic Gandhi, he gains praise and honour from the community. Unlike Bharat Bhai and Gandhi though, Mintoo is not honest and peaceful. Can Bharat Bhai teach these boys a much needed moral lesson.
£10.50 | £9.50 conc
Three Films Ticket Offer
£9 / £8 conc tickets when you book for three films at the same time. Offer excludes event cinema screenings. Offer applied in basket.
Please note: films without BBFC certification can only be screened to over 18s. This does not necessarily indicate that the films contain adult content.
Please prepare for your visit by reading our latest Visitor Information here.