F
B
Theatre Camp (12A)
Dir: Molly Gordon, Nick Lieberman 2023 I 93 mins
Tony Award winner Ben Platt and Molly Gordon star in the original comedy Theatre Camp as Amos and Rebecca-Diane – lifelong best friends and drama instructors at a rundown camp in upstate New York.
When clueless tech-bro Troy (Jimmy Tatro) arrives to run the property (into the ground), Amos, Rebecca-Diane and production manager Glenn (Noah Galvin) band together with the staff and students, staging a masterpiece to keep their beloved summer camp afloat.
'Having laughed all the way through, you'll leave the cinema feeling moved too' Times (UK)
'Laugh-a-minute storytelling, irreverent songs, biting dialogue and astute characterisation capture musical geekery in all its glory' The Sun (UK)
£10.50 | £9.50 conc

Special Ticket Offer
£9 | £8 conc tickets when you book for three films at the same time. Offer excludes event cinema screenings. Offer applied in basket.
Socially Distanced Screening
The screening on Wed 27 Sept 2pm is socially distanced with a reduced capacity. Face coverings are optional. Food and drink from our Cafe Bar can be taken into the theatre as normal.
Bring Baby Screening
The screening on Fri 22 Sept 11.30am is exclusively for parents, carers and grown-ups with children under 2 years. Lights are kept on low level and you can move around if you need to. Tickets are £5.50 for adults (including a cup of tea/coffee); babies and infants are free of charge. Seating is unreserved and unaccompanied adults are not admitted.
C
B
Baby Signing
Led by Funky Monkeys
Have you ever wondered what your baby is thinking or feeling? Would it help if they could communicate those thoughts and feelings to you?
Sign & Rhyme teaches parents/carers and their little ones, simple sign language that enables them to communicate before speech takes over. Just like waving and clapping, your baby can learn to tell you when they're hungry, in pain or just that they've seen a dog! This is empowering to them and hugely rewarding for you! In most cases babies who sign learn to talk sooner than their non-signing peers.
Signs are used in class, like actions, to accompany songs and nursery rhymes and with an array of props, puppets, instruments and the use of disco lights, bubbles and parachutes to enhance the sensory experience and make learning more fun.

There's also:
Free on-site parking
Café (open all day)
Baby changing facilities
Mums, Dads, Grandparents, Carers all welcome with their babies under 18 months
Wednesdays
13 Sept - 20 Dec (exc 25 Oct)
1.45pm - 2.30pm
£7.50 for 1 Adult and 1 Child | £4.50 for additional siblings
C
M
C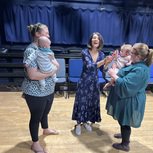 Bring Baby Choir
Singing is a great way to relieve stress and promote well-being.
Meet new people and take some time for you in this new acappella choir for mums, dads, grandparents, carers and their babies!
It is a baby friendly class, created especially so you can bring the baby you care for. Grown ups are in a semi circle (with room for your buggy next to you) and babies can sit, crawl or play on the blanket in front of you.
These uplifting classes are led by conductor/composer (and mum) Marta Radwan. There's no auditions, no singing experience is needed and you don't need to have a 'good voice' - just an openness to have a go! You'll be sure to know the songs and there will even be some which include your little one.
There's also:
* Free on-site parking
* Café (open all day)
* Baby changing facilities
Mums, Dads, Grandparents, Carers all welcome with their babies under 18 months
Fridays
8 Sept - 6 Oct (5 weeks)
13 Oct - 17 Nov, exc 27 Oct (5 weeks)
24 Nov - 15 Dec (4 weeks)
12.30pm - 1.30pm
£9 per session | £36 for 4 week course | £40 for 5 week course