S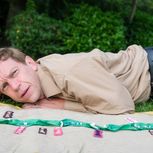 River Tours: The Thames
Presented by Stan's Cafe.
'The river heads south now and passes under Maidenhead Railway Bridge while overhead, in JMW Turner's 'Rain, Steam and Speed', a train steams across in an oil paint maelstrom of wind, rain, light, cloud, fire, smoke and soot, racing out of the picture, past us and on into the future…' Extract from The Thames by Craig Stephens
What makes a river special is what happens along it, on it and in it.
Spend a relaxing hour with Craig Stephens, from the theatre company Stan's Cafe, as he takes us on a trip down the river thames. Our journey, brimming with nature, history, inspiring art and design, tales of sewerage and ceaseless human invention is illustrated by a beautiful 1.7m long textile ribbon map made by the artist Vicky Roden. Beautifully written, engagingly performed, witty and educational. This simple piece of documentary storytelling is a high quality treat.
Stan's Cafe have been making and touring original theatre from their base in Birmingham for over 30 years. Their playful, inventive performances have toured the world.
'Wonderful, an Inspirational performance full of charm and humour, brilliant, mind expanding writing and stunning needlework.' Audience Member
Studio
£15