C
S
T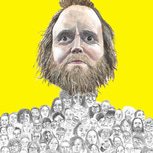 Rob Auton - The Crowd Show
The Crowd Show is a comedy / theatre / spoken word show about crowds, people and connection.
The Crowd Show is a show suitable for anybody who has been in a crowd or wants to be in the crowd for this show.
Rob Auton is an award-winning writer, actor and podcaster, named the 'Brian Cox of Comedy' by the Guardian. He has written eight hit Edinburgh Fringe shows, which have led to nationwide tours and television/radio appearances. Rob has had four collections of poetry and illustrations published by Burning Eye Books and Harper Collins.
In 2020, Rob started The Rob Auton Daily Podcast, which went on to amass over two million listens and win a gold award for Best Daily Podcast at the British Podcast Awards.
'A genuine original. Poetical, philosophical, humane, completely charming and funny to boot' The Guardian
'Emotionally charged - a heart-warming clarion call for universal connection' Evening Standard
'Makes laughter out of wonder and brings us all together. We need him' The Scotsman
'Something that'll leave you feeling all warm and fuzzy round the edges' The Herald
'Brilliant' Stewart Lee
Studio
£15
M
S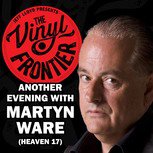 The Vinyl Frontier - Another Evening with…Martyn Ware (Heaven 17/Human League)
Hosted by Jeff Lloyd.
Once more The Vinyl Frontier welcomes electronic music pioneer, Martyn Ware, to chat about and listen to some of his career highlights and also talk about his new autobiography, Electronically Yours Vol 1.
Martyn was a founding member of The Human League, after which he set up the B.E.F. a part of which was 80s synth pop legends Heaven 17 as well as producing superstars such as Tina Turner, Erasure and Terence Trent D'Arby.
We'll talk about his life in music and play vinyl cuts from throughout his career.
Studio
£17