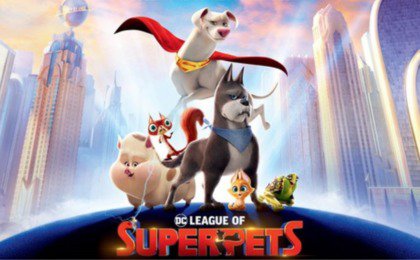 Dir: Jared Stern and Sam Levine 2021 | 105 mins
Krypto the Super-Dog and Superman are inseparable best friends, sharing the same superpowers and fighting crime in Metropolis side by side. When Superman and the rest of the Justice League are kidnapped, Krypto must convince a rag-tag shelter pack - Ace the hound, PB the potbellied pig, Merton the turtle and Chip the squirrel - to master their own newfound powers and help him rescue the superheroes.
£9 | £7 under 16s
Family & Friends (4 people) £28
Relaxed screening
The screening on Thur 18 Aug 2pm is Relaxed - everyone is welcome to join us for this friendly format. The lights are kept on low and the audience are free to move around, make noise or come in and out of the theatre as needed.
Due to staff shortages our kitchen will be closed until Tuesday 6 September. The bar will remain open as normal. Please accept our apologies for any inconvenience caused.