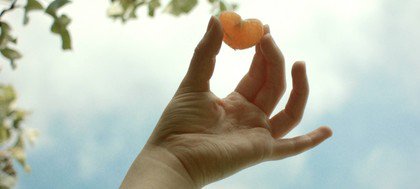 A film by Phoebe Nightingale and William Webb.
A pregnant woman reminisces on her childhood and wonders how she will bring up her own children without her late mother's guidance. Pip explores the space between motherhood and motherlessness, through the analogy of an orange tree.
---
The Story Behind the Film
I wrote Pip in Seville. I was obsessed with oranges, their sweet perfume permeating my hands, until a story flowed out of them, fully formed. It is a raw, fundamental story of loss.
It began as a writing prompt, given to me by writing tutor Jane Hankin as part of my Illustration degree at Kingston School of Art. She asked me to write about the inside of an orange. For weeks, this story bubbled away in my brain, slowly, and I let it develop.
At first, I only had one phrase; "We laid mama to rest under the orange tree." It was a play on words, swapping marmalade for mama laid, and it hinted at motherhood, death, and a family tree in a literal and metaphorical sense.
I read Oranges Are Not The Only Fruit by Jeanette Winterson. I ate my way through clementines, Nardicots, Valencias. I made monoprints using orange peel. I wrote, redrafted, wrote, drew, printed, bound. I desperately tried to breathe life into this little story, this quiet moment in which a daughter buries her mother under an orange tree.
As much as I tried to make it work, to bind this story into a book so it could be unpeeled and savoured by the reader, it simply didn't work.
In a slump, I went back to Jane, and showed her the draft. It was messy, stained with coffee, orange juice, and probably my own tears by that point.
She took one look at it and asked, "Why are you trying to make it into a book? It doesn't fit. It's a film."
Of course it was a film. Of course it was.
Pip doesn't fit neatly into four corners, it doesn't sit snugly on a page. It is too raw, the pain too fundamental, the words too sensual, too overflowing with colour.
It deserved to live, to be felt, heard, seen. Not merely experienced in 2D, then closed and put back on the shelf. This story breathes.
I went to Seville on a uni trip, and finally felt the story come alive. I ate sweet oranges, watched them ripen in a hazy market square, heard the whisper of waxen leaves, rich and dark green. Phrases and descriptions littered my sketchbooks, thumbnail sketches of fruits, skies, colours. My skin became sunkissed, smattered with freckles, each one a record of time spent researching, recording, drawing, living.
When I got home, I wrote Pip as a screenplay in an hour.
I planned and storyboarded the film extensively. Every frame was considered, coloured, blocked, until I knew the film inside out.
I worked together with filmmaker Will Webb to realise the film in the final stages. We work instinctively, pulling the story together, understanding each other's vision wordlessly.
The wonderful actors, Teri and Isabella, are mother and daughter in real life. Their natural bond comes across beautifully on screen. Despite Teri being cold, tired and 3 months pregnant whilst filming, she brings such emotion and intensity to the film.
The setting was the most difficult part. It was filmed in one drizzly, cold, April afternoon in my back garden in Cookham. After extensive colour grading, lighting, and literally spending an hour tying oranges to a pear tree, several people have asked when I went to Italy to film. And that is the biggest compliment in the world!
---
2017
Kingston School of Art - Illustration Animation Film Festival

Barbican Centre - Young Visual Arts Group Exhibition

Shooting People Film of the Month - Second Place

Norden Farm Centre for the Arts - Installation
2018
London Short Film Festival - Official Selection