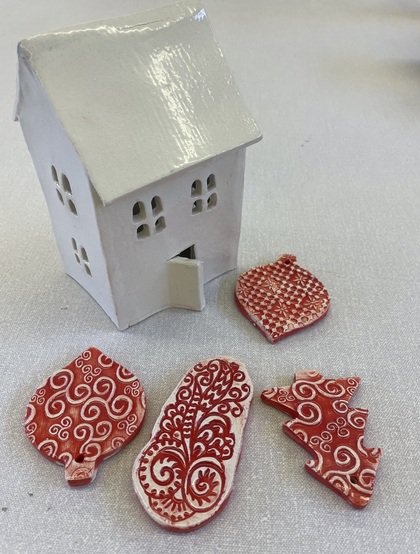 Led by Helen D Evans
The course is for people with all abilities.
The intention is to spend 2 weeks making a selection of seasonal decorations for yourself or as gifts.
The final week will be spent decorating your work with underglazes or glazes.
Your work will then fired off-site and then ready to collect from Norden Farm.
The price includes: Clay, use of tools, Underglazes, a selection glazes and firing of work.
All work will be fired to Earthenware.
You may want to bring with you:
Sketchbook for ideas / with ideas
Pens / Pencils
A cloth to wipe your hands on
An apron
Any clay tools you may have, pastry cutters or textured rollers to impress into the clay.

After the course.
Helen will notify you regarding the collection of your work which usually takes between 4-6 weeks.