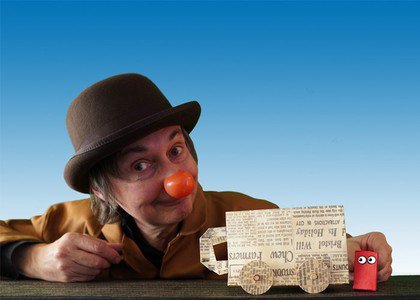 The delightfully comic story of a little red bag that jumps out of a brown paper bag – what in the world is it? And where is it going?
Join us for a fantastical journey of paper bag proportions, dive into the sea and travel to the land of snow. Watch out for a giant paper bag wandering about making strange noises…
Presented by Garlic Theatre (the company behind Oldilocks and the 3 Bears), who bring a sprinkle of pure magic with mime, clowning and puppetry.
Age guidance 3 - 8 years.
'Wow! It was fantastic. Absolutely captivating - beautiful, simple, spellbinding. This is children's theatre at its best' The Courtyard Theatre Hereford on 3 Little Pig Tails
Courtyard Theatre
Thur 12 and Fri 13 Aug 11.30am and 2pm (45 mins)
£12 | £10 under 16s
Family and Friends Ticket (4 people) £40
Booking cut off time: 30 mins before each event
This event has a reduced capacity with socially distanced seating.
Please prepare for your visit by reading our latest Visitor Information here. This includes important information about face coverings, social distancing and measures we have implemented to keep everyone safe when visiting Norden Farm.