LIMITED AVAILABILITY
M
F
C
The Albion Christmas Band
An Albion Christmas is widely regarded as the premier seasonal show. They have been touring for 23 years and attract sell-out audiences across the UK.
Featuring the combined talents of Simon Nicol (Fairport Convention), Kellie While (Albion Band), Simon Care (Edward II) and the Guvnor himself, Ashley Hutchings MBE.
They take to the stage for an evening of traditional English Christmas music, song and celebratory readings.
Ashley Hutchings is founder of Fairport Convention, Steeleye Span and The Albion Band.
Kellie While takes time out from working with her mum, Chris While, for which both the UK press and public alike have praised her. Folk enthusiasts will know Kellie from her work with The Albion Band. She received personal praise from Ron Sexsmith for her beautiful version of his song Riverbed on her album Tenacious. It put her on the map as one of this country's finest voices.
Simon Care is currently working with Edward II He has always had a passion for Traditional English dance and song. Simon also works with Banter, Tickled Pink and the Morris On Band.
Simon Nicol finishes the line up to make this a truly festive treat. He is a founder member of Fairport Convention and regarded as one of the finest acoustic guitarists in the world. His voice is pretty special too!
The Albion Christmas Show is a seasonal mixture of carols, spoken word and humorous readings. It really is the perfect way to start your festivities. This year will see a material chosen by our audience, it promises to be a fantastic set drawing on material from our extensive back catalogue.
'The perfect antidote to the corporate Christmas' The Guardian
Voted in the Top Ten Unmissable Shows this Christma by The Telegraph in 2018
Courtyard Theatre
£25
SOLD OUT
M
D
C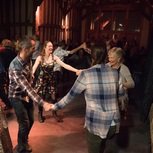 Christmas Ceilidh
An evening of music and dancing in the atmospheric 18th century Long Barn.
A caller will guide you through the dances while ceilidh band Nedron's Jig provide the live music. Dances include the likes of Cumberland Square 8, Virginia Reel, Gay Gordons and The Willow Tree. No experience necessary!

WHY? A perfect social event for Christmas parties
Long Barn
£16
In a change to the time previously advertised, the Christmas Ceilidh starts at 7.30pm
M
D
C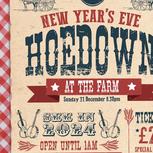 New Year's Eve Hoedown at the Farm 2023
Heck yeah, the hoedown is back by popular demand! Our lively New Year's Eve event returns to ring in 2024!
Dance the night way on our Courtyard Theatre dance floor to live music from ceilidh and barn dance band Cut a Shine.
No experience is necessary as their caller will be on hand to guide you through all of the steps!
Dust off your cowboy hats, rhinestone adorned outfits or most glamorous attire for a night of unforgettable fun at the Farm!
A fun, lively and thrilling way to celebrate this New Year's Eve!
Age guidance 12+ years
Norden Farm
£25, Supporters £22
M
F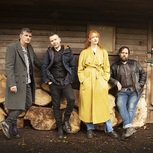 The Haar
A fresh, boundary-pushing take on traditional songs.
The Haar introduces the formidable singing talent of All-Ireland Scór na nÓg winner Molly Donnery combined with three of the most exciting instrumentalists on the folk and traditional music circuit Cormac Byrne (BBC Folk Award / Show of Hands / Seth Lakeman), Adam Summerhayes and Murray Grainger (both of the FATEA award-winning Ciderhouse Rebellion).
This is music that is not afraid to transcend borders - whilst recognisably born of the traditional music that all members have grown up with. The Haar are unapologetic in pushing the boundaries to create a unique and compelling sound.
The origins of the band go back to a chance meeting between Adam, Cormac and Molly at a session at the Craiceann Bodhrán Festival. This resulted in an improvised performance recorded by the shipwreck of the Plassey on the west coast of Ireland. It was to become typical of the unique 'live reactive composition' that characterises their music. With the addition of master accordionist Grainger, they entered the studio at the end of 2019 to record their first album.
Their self-titled debut, released in June 2020, is a collection of traditional Irish songs tackling love, poverty and oppression. It was heralded as 'a splendid balance of swirling instrumental magic and beautifully sung narratives' by Folk Radio UK and garnered attention from Mike Harding who described it as 'absolutely amazing'.
The latest album, entitled Where Old Ghosts Meet received multiple rave reviews and has paved the way for outstanding festival appearances at Shrewsbury, Beardy Folk, and at other prestigious stages.
'A sweeping panorama of Irish traditional music and song' Songlines
'We need more music like this; spontaneous, alive and affecting' FRUK
'Very rarely does an album appear unheralded and threaten to make a major impact. The Haar is one of those rarities' Folking.com
'We need more music like this; spontaneous, alive and affecting, The Haar will take you on a journey and have you appreciating the purest of life's pleasures. Wonderful stuff' Folk Radio UK
'Molly, Adam, Cormac and Murray have daringly turned this oh-so-familiar repertoire completely on its head and produced what is an inspiring and delightfully bold work of art' Folk Wales
'Full of great traditional music, just sung and played brilliantly' Mike Harding
'The Haar conjuring magic that had long been hidden in plain sight, responding melodically in a mesmerising impromptu arc of artistry' Irish Music Magazine
Courtyard Theatre
£18
M
F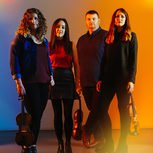 Fara
Filskit Fiddles Fae Orkney ("Filskit, adj: frisky, high-spirited, exuberant; addicted to immoderate hilarity").

Fara fuse the talents of three fine Orcadian fiddlers and vocalists - Jeana Leslie, Catriona Price and Kristan Harvey. Alongside stand-out Highland pianist and newest member Rory Matheson.
Fara have firmly secured their foothold at the forefront of the Scottish folk scene since taking 2014's Orkney Folk Festival by storm.
Their unique mix of spell-binding vocals, intricately woven fiddle harmonies and energetic closers, combined with an obvious kinship born in childhood, delight and entertain audiences wherever they go.
The band were shortlisted in 2015's Scots Trad Music Awards for Up and Coming Act of the Year. They performed a triumphant set at the 2017 BBC Radio 2 Folk Awards at the Albert Hall as Horizon Award nominees. They went on to win a German Critics' Choice Award and a Live Act of the Year nomination at 2019's Scots Trad Music Awards. They continue to tour internationally, with sell-out performances at festivals across Europe, Australia and North America.
Scots Trad Music Awards Best Live Act Nominees 2022 & 2019
Belhaven Bursary Nominees 2019
BBC Radio 2 Horizon Award Nominees 2017
German Critics' Choice Award Winners 2019
'Torch-bearers of a freshly reinvigorated tradition... one of the most exciting Scottish folk discoveries in recent years AllMusic
'Gifted, imaginative, complex and engaging... a sound that just exudes joy' FRUK
'Bring contemporary fiddle music to new heights... enthralling vocal arrangements' Scotsman
'From delicate, elegant and beautiful to full and rich and fiery... spellbinding' Fatea

Studio
£17.50