M
J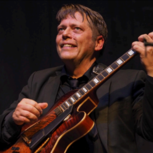 Nigel Price and Friends
Norden Farm Jazz Club Present.
With a career spanning more than 25 years, award winning jazz guitarist Nigel Price has become widely acknowledged as one of the hardest working musicians in the business.
Musically, his blend of flowing bebop lines, deep blues sensibility and his mastery of chording continue to delight audiences and fellow musicians alike. His career highlights include a support show for Gladys Knight at The Royal Albert Hall and an appearance on Van Morrison's recent album Keep Me Singing.
Starting his professional career in his early 20s, Nigel toured Europe with various reggae and funk bands before settling on a solo guitar career and turning his attention to jazz. Citing early influences as Wes Montgomery, Joe Pass, John McLaughlin and the Mahavishnu Orchestra, Nigel honed his craft by attending gigs and sitting in with the players of the time.
Nigel has played on more than 50 albums including 5 as a leader, spent ten years with acid jazz outfit The Filthy Six, was a member of James Taylor's band for 3 years (with whom he recorded 5 albums) and performed with the legendary David Axelrod. He has also taught at The International Guitar Foundation at King's Place, London.
Nigel is a regular performer at London's Ronnie Scott's Jazz Club where he has made more than 500 appearances.
Studio
£16
O
M
J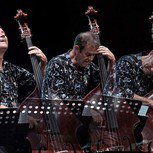 A Love Supreme: The History and Appreciation of Jazz (live stream)
WEA Maidenhead Branch / Oxford University Department for Continuing Education (OUDCE)
This is a Live Streamed event.
Highly respected jazz double bass player Steve Kershaw looks at the origins of jazz music, provides strategies for listening to it, and surveys the main styles of the genre in a way that is accessible to all.
Programme
10.15. New Orleans and the Birth of Jazz
11.40. How to Listen to Jazz
13.40. Dixieland to Swing
15.00. Be-Bop and beyond
Please contact Steph Diggon weamhead@gmail.com or Tel: 01628 563676 for reading list and powerpoint presentation.
Live stream from the Studio | £40 per household
Find Out More about this course here.=
WEA website
@WEAadulted
OUDCE website
@OxfordConted
@nordenfarm