M
J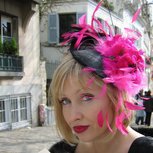 Tina May
Truly 'The Lady of Jazz', with a stunning range and repertoire ideally suited to the intimate club-style presentation of Jazz in the Studio at Norden Farm.
In combination with the remarkable musicianship of Simon Marsh (alto and tenor sax) Alex Hutton (piano) and Andy Cleyndert (bass).
WHY? 'That great rarity, a singer who enhances a song' The Observer
Studio
£15 (£13 conc) (£5 under 16s)
M
J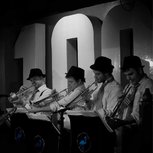 Sounds Echoed with The Paul Jordanous Jazz Ensemble
The stunning, original and expansive ensemble return to Norden Farm following their recent UK tour.
Paul Jordanous (trumpet) is a London based trumpeter, pianist, composer arranger. He has been a regular on the jazz, funk and soul scenes for the last 13 years. He is joined by Piers Green (sax), Leo Appleyard (guitar), Sam Leak (piano), Kevin Glasgow (bass) and Ted Carrasco (drums).
WHY? 'Jordanous's calibre as a masterful craftsman is a treasure to behold' Blues and Soul Magazine
Studio
£15 (£13 conc) £5 under 16s