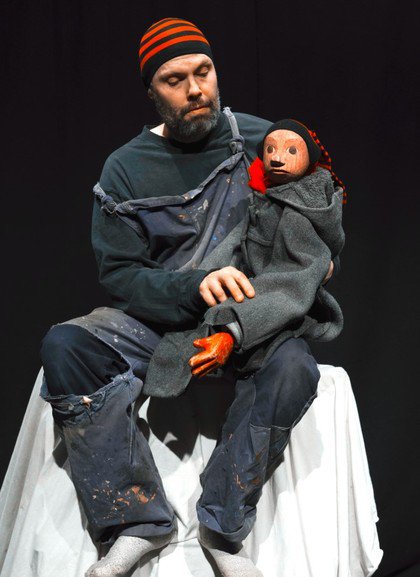 The third in a series of three shows coming to the Norden Farm stage for Christmas 2020.
The objects of a carpenter's workshop bring to life the tale of the puppet that wants to be a real boy, and the puppet-maker who wants to be a real father. A one man show starring Steve Tiplady, as Geppetto.
Pinocchio is carved on stage, brushes become a fox and the shadow of two saws transforms into a giant shark. An element of improvisation makes each performance unique to its audience.
Puppetry, shadows, illusion and especially composed music combine to create a show with something for all ages; it's inventive, visually and verbally witty with a big heart.
Online streaming tickets are available for this event – so you can enjoy the show live from the comfort of your home.
'Wonderful work that celebrates the possibilities of theatre' Lyn Gardner, The Guardian
'Truly magical… captivating' The Scotsman
Age guidance 4+ years
This event will be streamed live via the Norden Farm website
Run time 60 minutes.
Livestream Ticket £15 per household
Photography credit: Adam Crosthwaite
---
Pinocchio Takeaway Offer
Enjoy a takeaway meal from our Cafe Bar while you watch the show from home! Download the special menu here.
Available for collection between 12pm - 2pm on the day of your screening. Once booked, please contact the Café Bar with your order and collection time at catering\@nordenfarm.org \/ 01628 682566.
---
If you have booked a ticket to watch from home via our website, you can access the live stream on the day of the event by clicking here and logging in to your Norden Farm account.
Click here for a guide to accessing live streamed events and for information on allocating tickets purchased for other households.
Recording of the show is strictly prohibited.